30 Oct - LCRK 55km race report
With the cancellation of the HCC the Committee thought it would be good to offer a replacement option to LCRKers of an Ultra event. Hence the LCRK 55km Ultra was born. The proposed course was 4 'Big' laps which took in our usual Wednesday Time Trial course extended into the end of Burns Bay. That is the first bay on the left after you go under Figtree Bridge heading down stream.
With less than 2 weeks notice 15 paddlers signed up for the first ever LCRK Ultra event, some taking on the full distance themselves, others as a relay. There was also a 2 lap option which also attracted a number of paddlers.
We were greeted with a beautiful morning and after a short briefing paddlers were ready for a 7am start. There was a good positive vibe amongst the paddlers. The start/finish line was at the pontoon and paddlers heading downstream to start. Off they went at 7:03am. There was a second start at 8am with full distance paddlers Naomi and Andrew P paddling the club Cobra K2. The question asked at the time was could this double catch all the singles over 55km?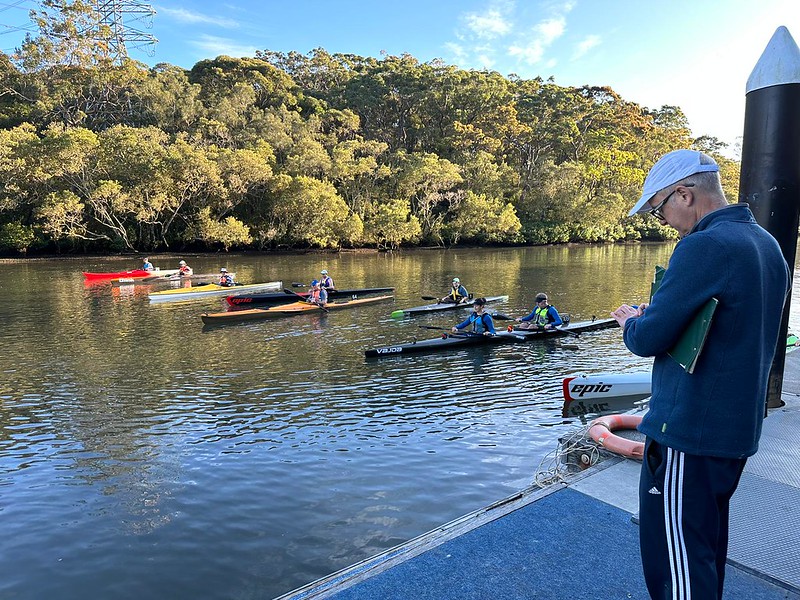 Above: The start, Wade on timekeeping.
The field:-
Peter Avery – full distance
Harry Janecek – full distance
Adrian Clayton & Nam Nguyen – single relay full distance
Naomi Johnson and Andrew Pratley K2 – full distance
Karen Tipping and David Young, Cassie O'Connor & Stephen Shelly – K2 relay
Esther Wheeler – 2 laps
Peter Janecek – 2 laps
Andrew Pearce – 2 laps
Jeffrey Tonazzi – 2 lap support role (with a rest in between)
Michael Thom (1 lap support)

We got a sense of how the day was going to turn out when one Harry Janecek, on his first lap passed the pontoon and quipped to David and Karen on the pontoon preparing for their relay change, 'I hope you enjoyed your sleep in' which got a laugh from all on the pontoon at the time.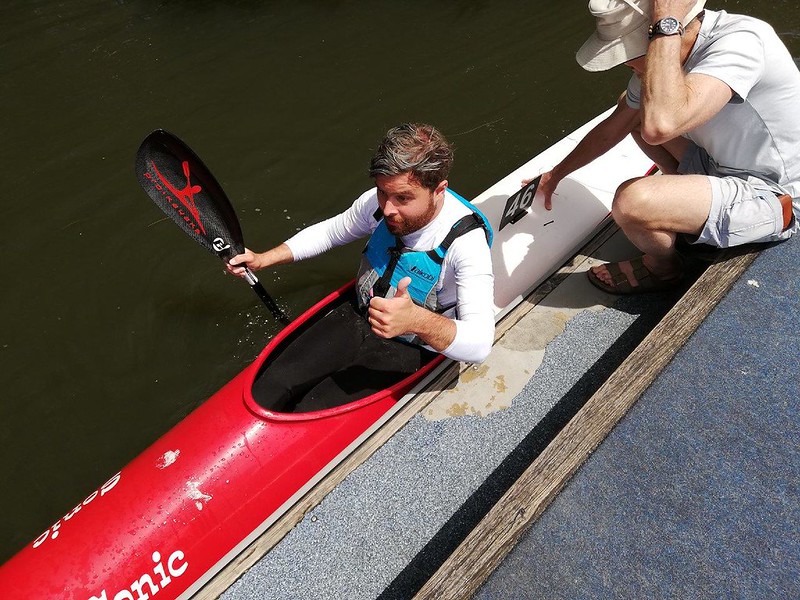 Above: Harry checking if he can stand up here.
As paddlers passed by the pontoon heading upstream or downstream they always appeared to be in good spirits. The first relay changeovers occurred without a hitch and paddlers were going well, except for the Cobra K2 where there were seating issues occurring in the back seat commonly referred to as 'bum rot' by some. The question of catching the singles was off the table.
I soon came to realise that the 'big' lap was actually more like 15km long rather than just under 14km so we made an adjustment for the last 2 laps to be the normal time trial course to ensure we did not go over 55km.
Over the next 5+ hours there always seemed to be a boat paddling by the pontoon. Some stopped for a quick rest, some stopped for a seat adjustment, but Peter Avery stopped only to change boats. He had decided the best way of avoiding sciatic pain from the seating was to change boats, one of them being a SUP. The other boats were a Epic V12 ski, a single outrigger, and long rec Renegade.
Special mention to Harry Janecek who powered all the way through the full distance having never raced further than 20km previously. Well done Harry.
Duncan & Liz, Chris J, Rich A and Brent dropped in to see how things were proceeding. Jeff and Laura Hosnell arrived to look after the BBQ and did a great job. After everyone had finished, a presentation was conducted during the BBQ. All the paddlers had a really great morning and enjoyed the format which in the end was just a relaxed bunch of paddlers giving it their best on the water and enjoying the river, weather, course, scenery, fellow competitors and the challenge of paddling 55km or 30km.
This event may well become a fixture on the paddling calendar. It will be up to the Committee to decide where it fits best. Maybe as an end of year wind down event?
Some comments from participants:
Karen Tipping - I love this format as I've never done a relay before and didn't appreciate how good it is - it is a very inclusive activity - easy to support everyone and be social. This event has so much potential, so exciting that this could become a regular event and I can't wait to support this again and really encourage more individuals and cross-skilled teams to participate.
Esther Wheeler - It was a really fun morning on the river and I'm grateful to Andrew for keeping me honest for most of it and Peter for being generous enough to pull me around the last 5km or so! The Lane Cove Ultra series here we come!
Peter Janecek - Hats off to you Wade!
Lots of other positive verbal feedback too. Look out for it on the calendar next year.
29 Oct - HCC rec paddle report - from John Duffy
Many paddlers who looked forward to the 2022 HCC were understandably disappointed at this year's cancellation. The entry system had been navigated, fund raising had started, lead-up events had been ticked and training was in full swing. A few paddlers therefore felt that depending on river and weather conditions, an unofficial HCC would be a good way to round out the paddling year. Of course it was planned for daylight hours for simplicity in mind, with a 7am start.
Saturday 29th October was a glorious day. Paddlers intentions were Don Johnstone, Richard Barnes, John Harrison and John Duffy (full distance), Neil Crabb and Richard Fox (Wisemans), Duncan Johnstone/Jeff Hosnell (Sackville to Wisemans) and Andrew Murray/Mark Hancock (Windsor to Sackville and return).
There is something to be said for not racing the HCC, but rather enjoying the gorgeous scenery (especially the cliffs), relishing the company and sharing stories and good conversation. Witnessing in daylight the impacts from the 2021/2022 floods also brought home realities of what the community has faced. There was no additional noticeable flow other than the tides and conditions were very good with one serious exception. Crossing the river to get to the Wiseman's stop was treacherous although Richard Barnes in his 580, Don in his ski and Duncan/Jeff in their double wondered what all the fuss was about. Three paddlers went for a swim and the rest dusted off some old swear words. One metre waves from behind at 45 degrees caused many anxious moments for me.
The jetski and power boat traffic was disruptive, but that was expected and is a key reason why the real HCC is not run during daylight hours.
The full distance paddlers checked in to Mooney Mooney at 12 hours 15 mins just after 7pm after a couple of extended breaks, while not raising the heart rate and keeping the main group together. It was a 2022 paddling highlight, a great way to end the competitive marathon year and something we would all consider doing again.
The team's appreciation to the support crews who made the day possible; Chris Johnstone, Liz, Eric Barnes, Trevor Nichols, and families at the finish. Thank you also of course to Sackville and Wisemans landowners and caretakers.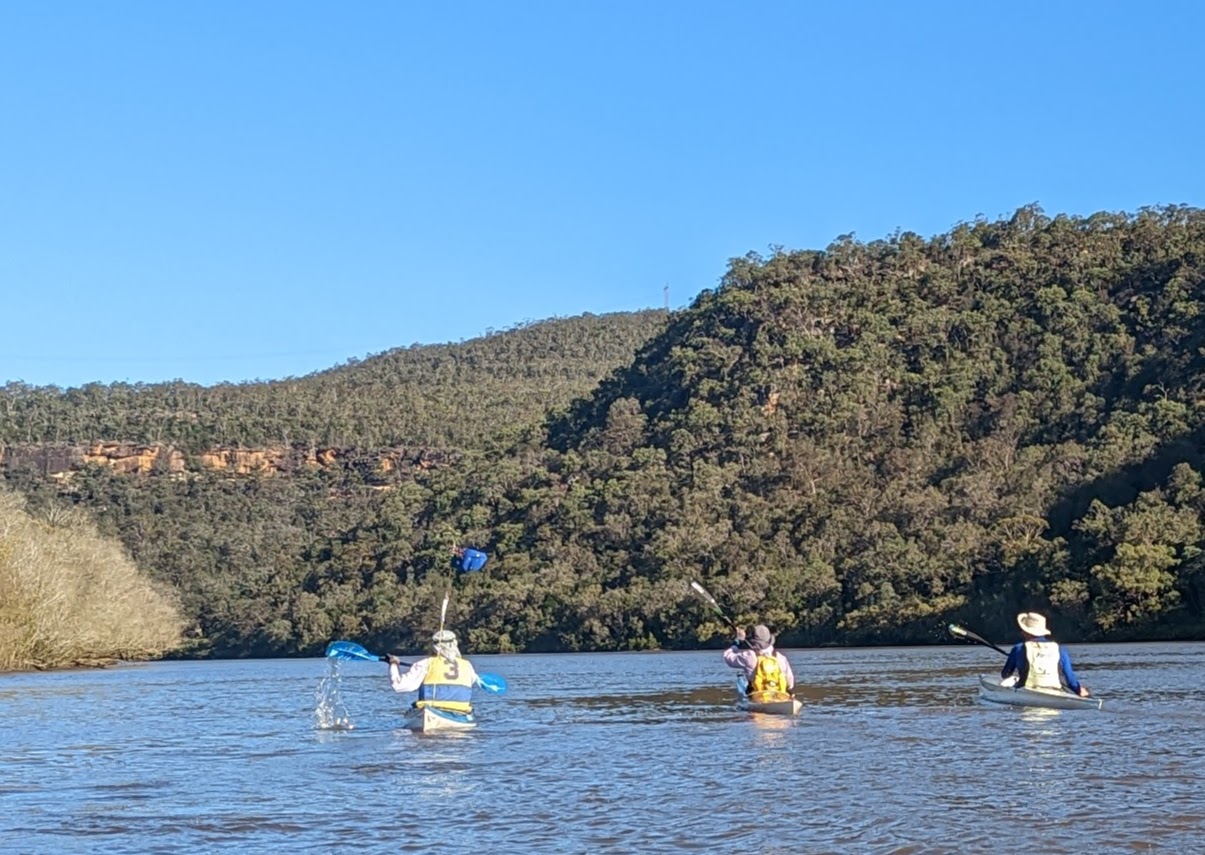 Above: Hawkesbury River scenery (Photo: John Harrison)
23 Oct - CCP Wyong 30km race report 23rd Oct 2022 – Pete Avery
Five LCRKers did the Central Coast Paddlers race at Wyong on Sunday 23rd Oct; Duncan Johnstone & Jeff Hosnell in a double doing the 19km and Don Johnstone, John Harrison and myself in singles doing the 30km distance. The race was combined with the CCP normal club races of 7.6km & 11.4km and was rescheduled from the planned event 2 weeks earlier that was postponed due to mild flooding.
Driving the hour up to Wyong on the race morning saw some concerning torrential rain near Mooney Mooney but the weather eventually cleared up with very light drizzle and a beautiful morning on the lovely Wyong river.
The race is a handicapped start and had a small field with only 13 paddlers in the 19km & 30km race; 5 doubles and 3 singles.
I was the first paddler away at 8:15am for 2 ¾ laps of the course. The first 14 km was terrific, averaging just over 10kmh and the river was beautiful with very light drizzle rain that gradually cleared up. It was my first race in my new Elliott Renagade sea kayak and the new swivel seat, footplate and footstraps were all feeling great. My sciatica cramps then started flaring up and I needed to get out of the kayak at 19km for a long stretch and some fuel. Back in the boat and all going well for the next few kms and enjoying myself. A quick stretch on a sandy bank about 27km in then back at it for the final push to the line. I was very pleased with my 3h3m elapsed time and keen to do this race again. A terrific race, an hour from Sydney, well organised with some friendly paddlers. Hopefully we can get a few more LCRKers to participate in 2023, put it in your calendars!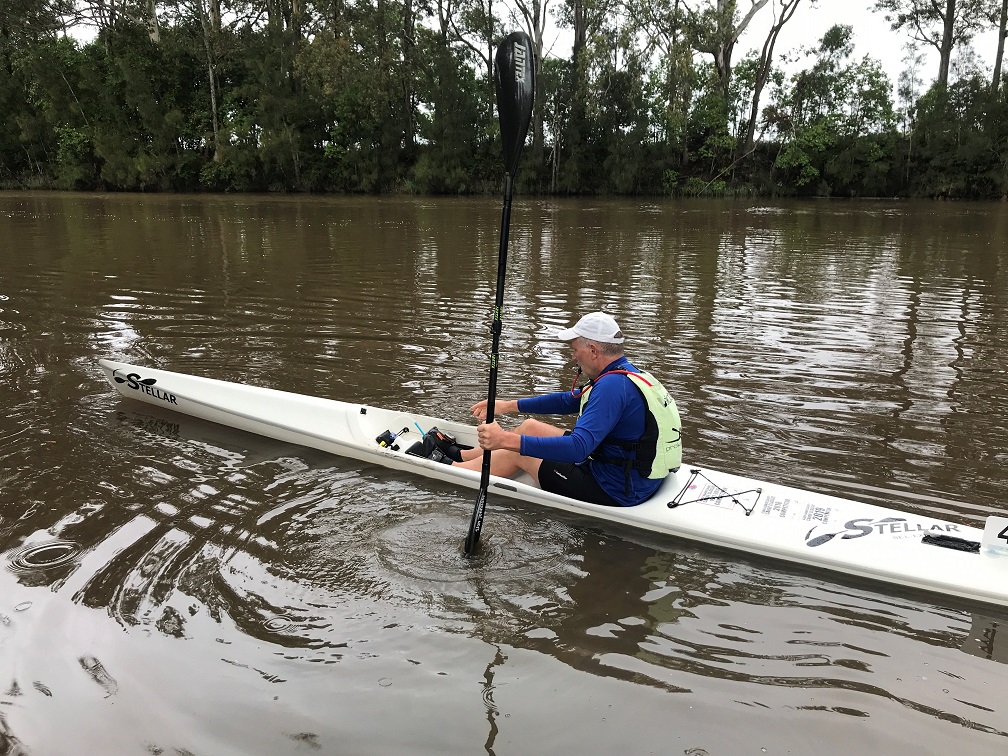 Above: Don J showing his single blade technique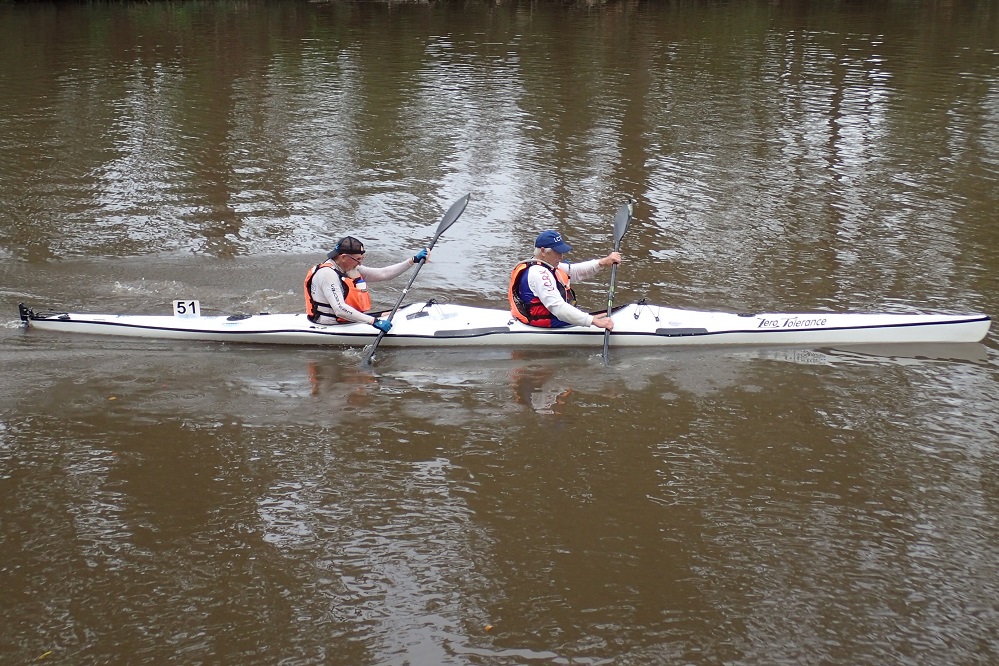 Above: Dunc n Jeff
7th, 8th, 9th Oct - Clarence 100 (Big Clarence)

All paddlers gather for a group photo at the start Day 1 (Photo Carly)
Wade Rowston - Mother Nature Rules in Big River Country
This years' contingent of LCRKers that headed up to the mighty Clarence River for the Clarence 100 included:-
• Anne Cumming – Single Ocean Ski – Full Distance (Supported by - Bob)
• Richard Barnes & Chris Stanley – Double Kayak – Full Distance
• Mark Hancock & Andrew (Muz) Murray – Double Kayak – Full Distance (Supported by friend David also known as Crafty)
• Wade Rowston – Single Ocean Ski Epic V10L – Full Distance (Supported by Carly)
Wedged between the Myall Classic and the Hawkesbury Canoe Classic the Clarence 100 tends to go a bit under the radar for most Sydney and surrounds based paddlers. The reality is though this is a great event in its' own right let alone an ideal preparation for the HCC. You can do the full distance or as a relay.
The Clarence 100 is actually 106km long over 3 days starting at Copmanhurst and finishing on the coast at Yamba. Day 1 is 40km and starts west of Grafton at Copmanhurst and finishes at Grafton. Day 2 is almost 42kms from Grafton to Mclean. Day 3 is just over 24kms from Mclean to Yamba.
This year was the first since 2019 thanks to the event wrecking Covid pandemic. There were SUPs, single and double outriggers, single spec skis, single and doubles ocean skis and kayaks and a 10 person dragon boat competing. There were just under 50 boats but over 95 paddlers with relays being very popular.
Not sure whether it was a misalignment of planets, biorhythms on the blink, a black cat walked under a ladder then got run over, or just the river gods dodgy sense of humour, but this year all three days were paddled against the tide except for the first 10kms on Day 1 and the last 3kms on Day 3. Very funny river gods, hahaha. Add to that, solid head winds for at least half the course on Day 2 and 3 and the event organisers need not bother dusting off the record books this year.
Day 1 – Copmanhurst to Grafton – 40km Time taken 3:56:21
It was quickly evident on arrival that Mother Nature has been busy re-arranging the river bank during the last flood at the starting point on the river, from a rugged grassy camping area accessible by car, to a vast area of river gravel for up to 50m from the rivers edge, no longer accessible by car. Actually, this was identified at the briefing the night before at the Crown Hotel and cars had to be parked along the approaching road with a significant portage from there to the river. There was good flow in the river here which provided some encouragement and it was beautifully foggy.
The SUPs and Outriggers and other self nominated slower boats started at 7:15am, 15mins ahead of all other paddlers. I had a reasonable start but paddled conservatively. My goal was to finish the event rather than chase a time. The light breaking through the fog set a beautiful scene and the river flow provided good assistance up until about 10kms. Soon after I caught up with Richard and Chris and paddled with them for a while for a chat for 5 mins or so then continued past.
I stopped at the halfway mark for about 3 mins for some food and a rest then continued on at a steady pace. The wind was increasing but after the river takes a big U-turn it was with us, albeit against the tide. It was a nice ride home. I stopped again with 5kms to go and was able to stand up for a couple of mins and have an Endura gel (sorry wrong brand as GU is a sponsor of the event). This was like rocket fuel and I was able to pick up a couple of boats powering to the finish. It was a good result given limited preparation.
Very conveniently the Crown Hotel is literally at the finish line so everyone adjourned there for lunch to compare notes.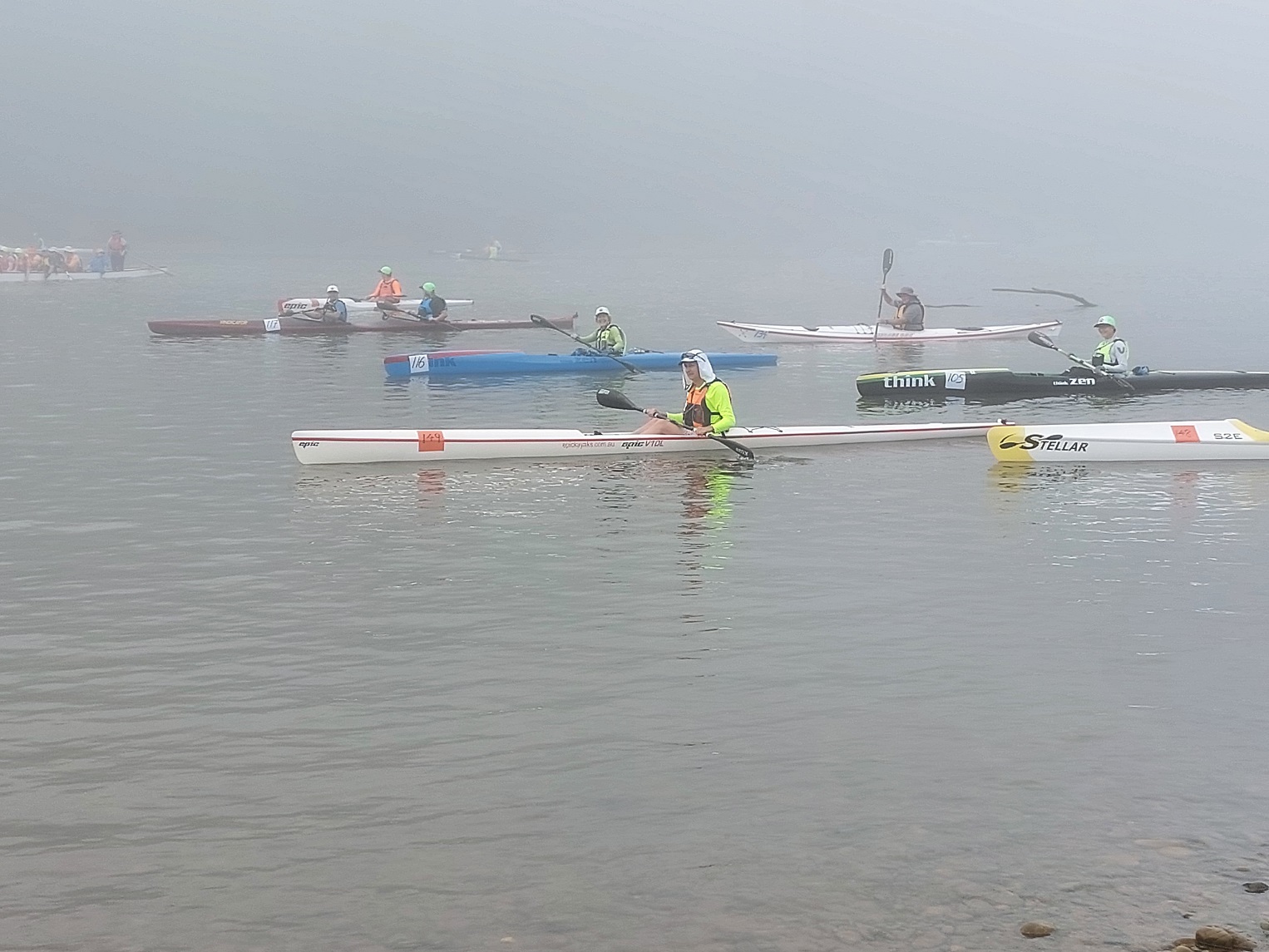 Day 1 Foggy Start - Wade in foreground, Anne just beyond (photo Carly)
Day 2 – Grafton to Mclean – almost 42 kms – Time Taken 4:52:28
Another early start. Same deal. SUPs, Outriggers and slower boats started first then the rest of us 15 mins later. It was a beautiful morning at the start line but little did we know what was awaiting a few kms downstream. It quickly became evident that whilst the mind was awake the body was not. I took a while to get going. Just around the corner was the start of the long straight of about 18kms. Not dead straight but close enough for the wind and chop to build up all the way down that section. The wind had got up much earlier than forecasted and we were heading straight into it … and the incoming tide.
Mark and Andrew (Muz) had started well in their Mirage double and had a small flotilla washriding them when I caught up. I paddled next to them for a while and had a good chat over a few kms. I then decided to head closer to the riverbank to attempt to get out of the increasingly bumpy water and main flow of the tide. It was not encouraging at all to be seeing 7s in the kms/hr on the GPS. Mother Nature was in charge.
It was a long haul but I finally made it to the 20km mark at Cowper and the entrance to South Arm of the Clarence which was beautifully protected from the wind. I stopped at the jetty for 5 mins and was able to get out of the boat and stretch and try to comprehend how it just took 2hr and 45mins to do 20kms. It was absolute bliss padding down the calm and flat South Arm although, sorry to hark on about it, it was still against the tide with a very slow average speed.
I was very happy to arrive at the finish line at the Mclean rowing club where they had put on a BBQ and even had a coffee machine. Best ever bacon and egg roll. Awesome! It took almost one hour longer than the day before to finish the same distance + a couple of kms.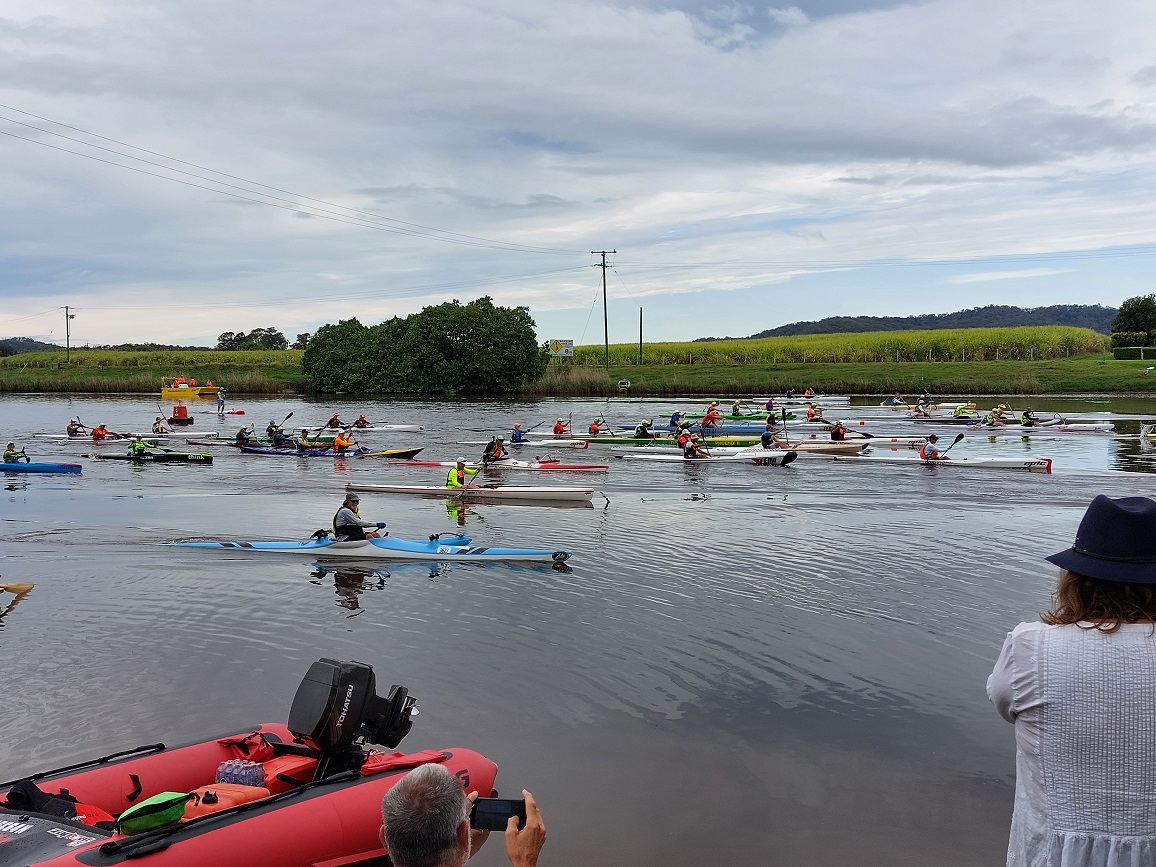 Day 3 Mass Start (photo Carly)
Day 3 – Mclean to Yamba – 24+ kms Time taken 3:01:29
Day 3 is a mass start. We quickly exit the South Arm and join the main river after a couple of kms. This section of the river is BIG. I was quite anxious and unsettled about possible conditions in this part of the river as it was very rough in the 2019 race. It is about 800m wide and it is necessary to cross over to the other side. It is spectacular as we pass under the massive Pacific Hwy bridges. Fortunately, the conditions were good, except for the tide that was ripping against us creating some swirls. I crossed with two other paddlers Katie from Melbourne and Rozanne (friend of LCRK and ex-member). There is always safety in numbers.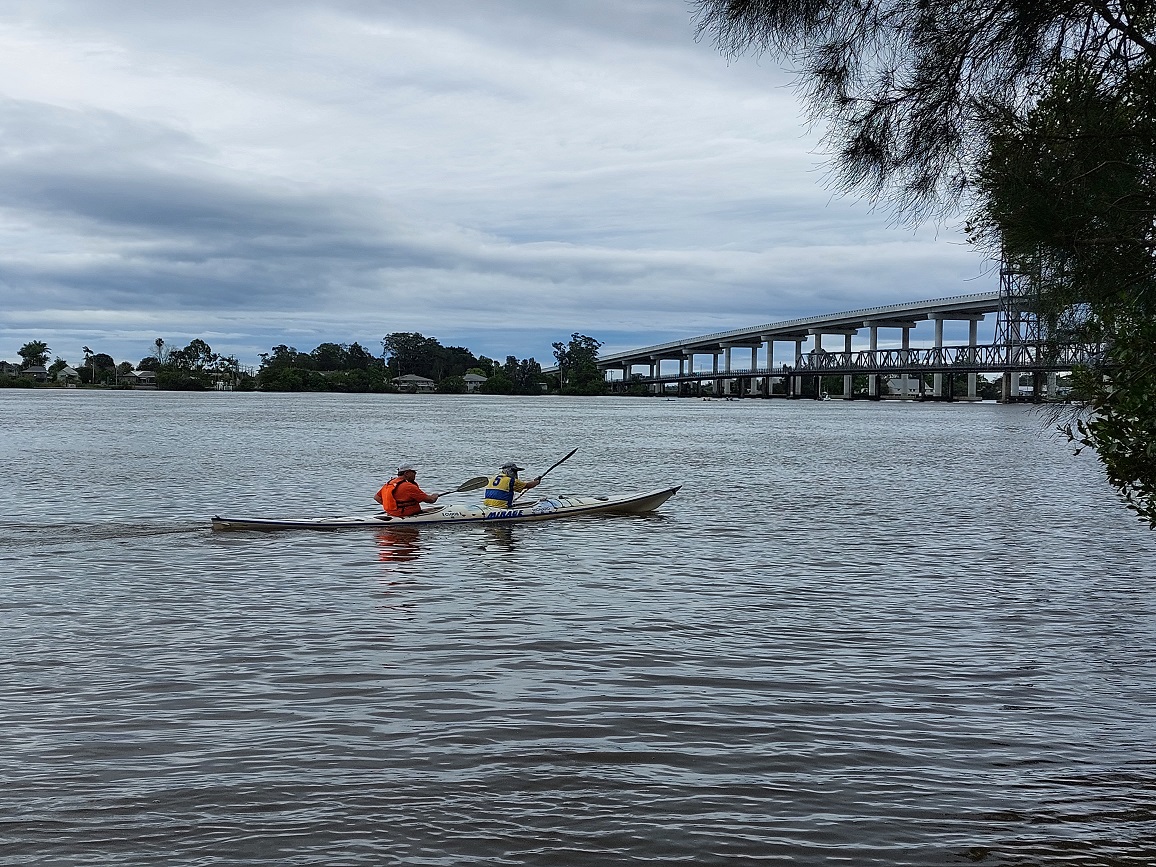 Richard & Chris Day 3 approaching the Pacific Hwy Bridges (photo Carly)
I stopped at the 10km point, which was the relay changeover point, for something to eat and stand up and stretch after being way too tense about the first section. The river heads north here and into the wind. The going is even slower than the previous day in parts with only 6km/hr possible. The river then arches around to head south but in the arch there is strong wind, solid side chop and a vicious tide for a couple of kms. I zig zagged across this section to minimise taking the chop directly side on.
Finally heading south with the wind, the tide changes and it is mostly a beautiful and smooth last section to the finish line at the Whiting Beach, a beautiful river beach. Very happy to finish and another very slow time for the distance.
Thanks to Ben Sullivan and the rest of the Clarence 100 team for running the event. A presentation at the Yamba Golf Club took place mid afternoon and all LCRKers managed to come home with a win or place in their respective categories. The Clarence 100 deserves its place on the ultra-racing calendar and is a great experience and a mini adventure. Off the water is very social as paddlers tell their stories from the day and provide support on the water.
Congratulations to fellow LCRKers Anne, Mark and Andrew (Muz), Richard and Chris. Definitely add the Clarence 100 to your list!
Mark Hancock and Andrew Murray - Clarence 100 Report ................................................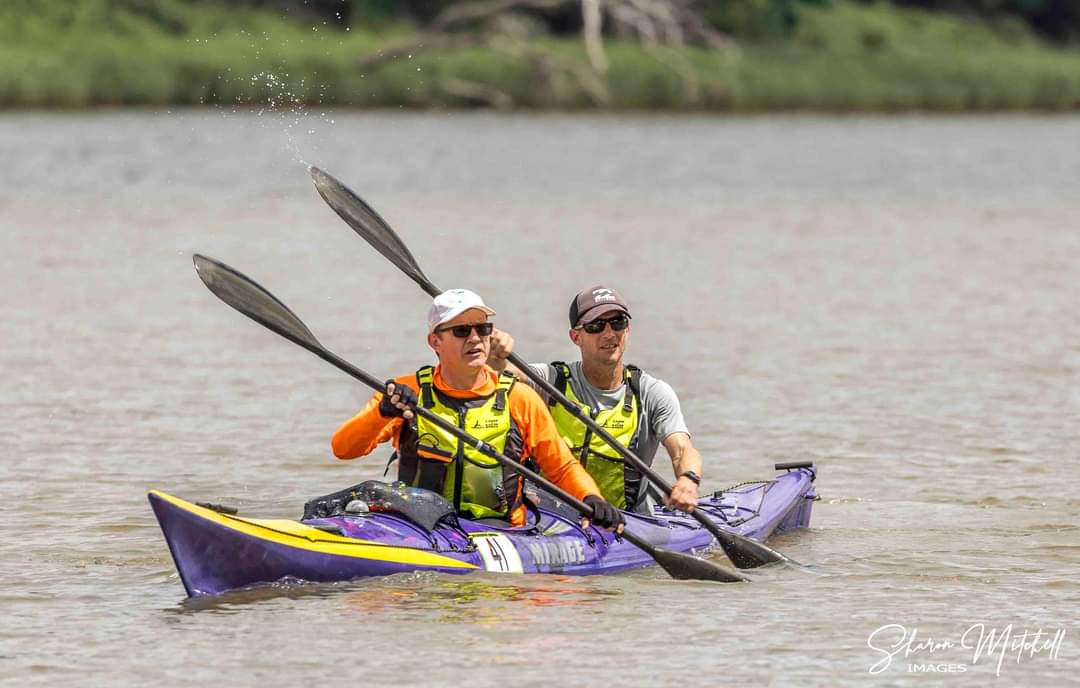 Muz & Mark (Photo Sharon Mitchell)
My paddling partner Muz (Andrew Murray) and I planned to do the Clarence 100 last year as part of our preparation for the Murray marathon in November. The Clarence was cancelled due to Covid, so we decide to try again this year.
Having completed the Murray in Feb this year, we were reasonably confident, but we were a bit low on training and the tides were forecast to be against us for all 3 days.
Day 1 was from Copmanhurst to Grafton (40km). We started in a heavy fog but were very pleased that the river flow due to recent rains was stronger than the tides, so we made a relatively fast start. The flow weakened throughout the day and we finished against the tide but we were happy to be done in just over 4 hrs.
Day 2 was by far the hardest even though it was similar distance (41km) as day 1. The tides and the winds were against us and the day started with a nearly straight north heading stretch of 20km against a strong wind. After this the river turned more to the east and was more protected which was very much appreciated by all paddlers. We took nearly 5 hours to complete day 2, by far our longest paddle without getting out for a break. The BBQ and coffee at the finish put on by the local rowing club at Maclean was fantastic after a long day on the water.
Day 3 was much shorter at 25 kms. The middle section was really tough for all paddlers as the tide and wind were very strong and both against us. Our times exploded to nearly 9min kilometres (ouch), but at the 15 km mark the tide turned and the river did nearly a 180 degree turn to the south east so we were down wind from there to the finish. The last 10km was fast and fun. We saw several dolphins as we closed in on the lovely beach finish at Yamba.
The race was lots of fun with many highlights. We will definitely do it again. It was great to spend time with and get to know better some fellow lane cover paddlers (Wade, Richard, Chris, and Anne). The race was really friendly with many social gatherings including the night before the race started and after the last day. A big thanks to our high school friend (David) who drove down from the sunshine coast to be our support crew.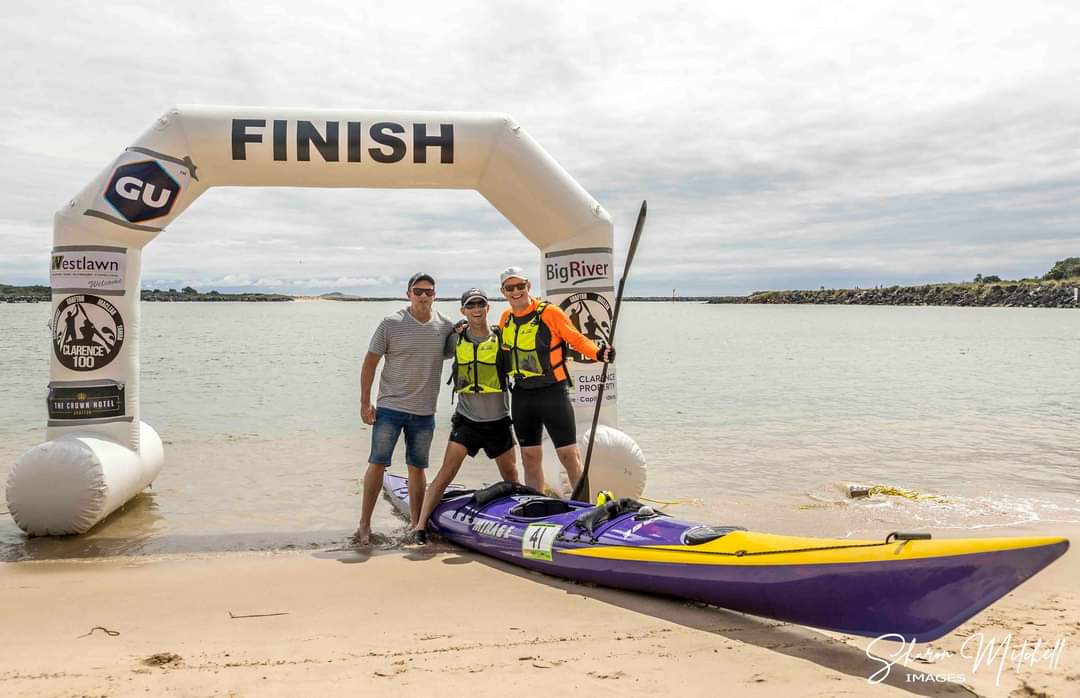 Crafty, Mark & Muz at the finish Day 3 (Photo Sharon Mitchell)
17 Sep - Myall Classic (LCRK)
Above: Results for LCRKers and regular TTers]]
Tony Hystek
Way back in 2002 or thereabouts, Mike and Shirley Eggleton, local residents of the region, came up with the idea of running a paddling race up the Myall River to raise funds for the Cure Brain Cancer Foundation, which they had recently become personally acquainted with. The event was a success; entry fees covered running costs (which were fairly minimal at the time) and substantial proceeds went to the charity. The Eggletons, together with Murray and Liz van Reece through their club 'Just Paddlers' kept the annual event going till 2013, when they announced they were no longer able to continue.
I had paddled the race on several occasions, including the truncated 2009 event when the 47km race was turned just before Brasswater due to high winds. It was always a magical experience, journeying through the unspoilt Myall Lakes National Park up to the lake and back, though in the early days the course was not marked with navigation aids.
I couldn't bear to see the event die, so in 2014 as a board member of PaddleNSW, I proposed that PNSW could run it, at first to continue the support of the charity, and subsequently to raise funds for PadddleNSW itself. With Anjie Lees help, we constructed a new website, revised the race plan to include multiple starts and minimum progress requirements, and Bob Turner provided great support in looking after the registration and timing side of things. The 2014 event started a successful 6-year run under PNSW organisation.
A couple of years of Covid interruptions and my resignation from the PNSW board resulted in PNSW losing interest in running the event under their umbrella. With an event too good to let die, I managed to convince the LCRK committee to support a trial run of the event in 2022. This meant almost starting from scratch again, but it has allowed us to create an event that can be handed over to a new custodian should the need arise, with little difficulty.
I thank the LCRK committee for placing their trust in me to pull this race together, and for the fabulous support of the club, especially Ian Wrenford, who did an enormous amount of work behind the scenes to keep things on track and helping with decision-making.
On the Monday before the race, the high winds predicted had us working for two days non-stop formulating plans for a revised finish at Myall River Camp, and shuttle bussing competitors back to Tea Gardens; we'd even hired the bus. Thank goodness the forecast improved for the day of the race.
With the 2022 event successfully behind us, we look forward to improving the event where we can and engaging not only more LCRK paddlers in the organisation, but the local community too.
With 250 entrants in years past, and 175 this year, there remains a huge opportunity to grow the race back to its former glory.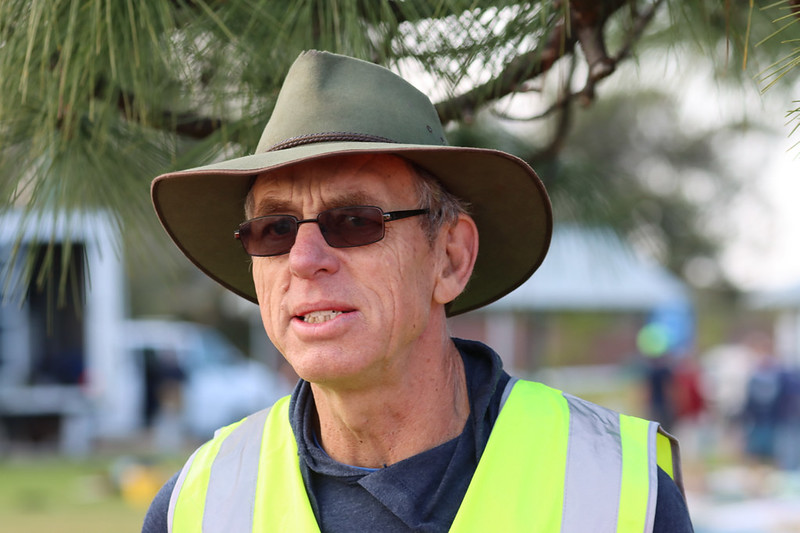 Cassie O'Connor & Stephen Shelley
* 27km of YouTube
Cassie and Stephen have provided a race report by means of their onboard GoPro's. An excellent adventure!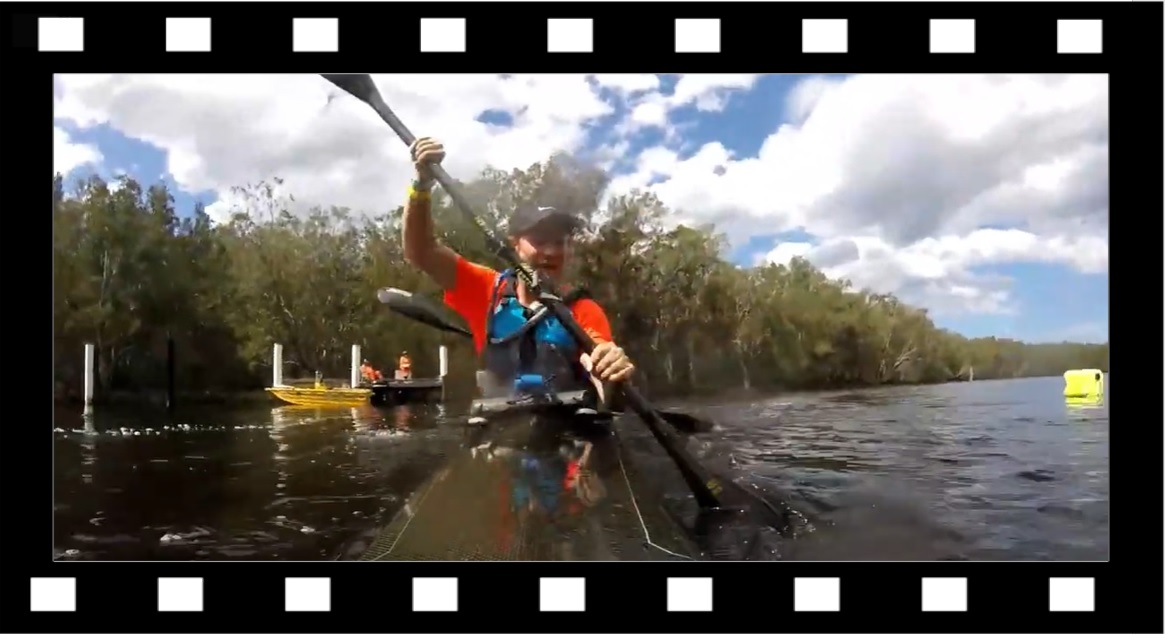 Pete Avery

I signed up for the 47km Myall as my first surf ski race with only 7 weeks to train for it.
At the race start I stayed with the fastest double but after about 5-10mins I needed to drop back a little. John and Chris were right there and we formed up a nice team and were quickly joined by doctor Chris. The next few kms were really great, sharing the lead, wash riding, paddling at a good clip and enjoying the beautiful Myall.
Then I started to struggle as we hit the outgoing tide and I began getting cramps. A quick stretch out of the V12 ski at 13km then the next section went relatively well with flat glassy sections and light winds. I had a stretch at halfway and started to feel good again for the next 7km, enjoying the outgoing tide. I hit the incoming tide wall feeling knackered and nauseous. Another stretch stop and the slow slog home began with more cramps, stops and a vomit.
With 3km to go I fell in in gusty side winds and difficult chop. I re-mounted the ski 4 times only to roll over again. Thankfully Ian was in an IRB and helped me to re-mount the ski after climbing onboard the IRB. I fell in again 2 mins later and walked the next 300m in chest deep water until I reached the tree line. Back on my ski then a gust of wind blew me over 1km from the end. I managed to eventually remount and paddled slowly across the finish line.
Mission accomplished in 5h38m. It wasn't pretty though. A huge thanks to the LCRK crew who helped me on the training journey and for hosting a very well organised race.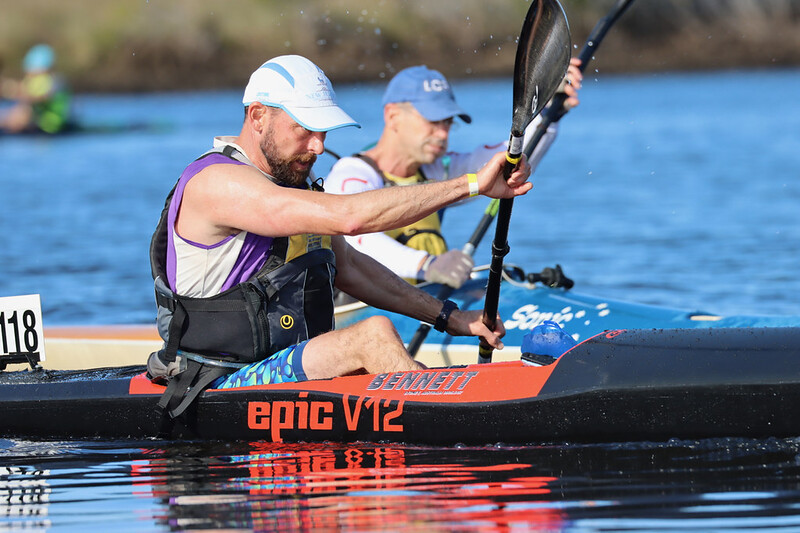 ]]
Esther Wheeler
Here is my report of my first Myall! And looking forward to next year and helping out.
The Myall was my first proper K1 race. I was pretty sure I'd be really slow so signed up for 12km. With so many other craft on the start line and some wind coming up I decided the best thing was to be at the front to try and get going without issues from the wash of others. I got a cracking start and somehow, just, avoiding hitting other kayaks as I struggled to steer a straight line. Settled nicely into my groove and found a surfski to draft. Crossing the first, more open section was a little concerning with side winds and waves so I focussed on drafting and steering well and forgot about the wind. I then jumped across to draft a faster OC2 and from practicing in TT's with Geoff I was easily able to stay with them.
Unfortunately, another K1 paddler jumped in-between a bit later as we rounded a buoy to take the left-hand corner. I say unfortunately as this paddler didn't realise that the OC2 paddle change impacts boat speed so he kept hitting their canoe and rightly, they asked him to back off. I couldn't make the jump back to them so pootled along on my own for a while until after the 6km turn when a surfski and K1 train passed me and I hopped aboard.
It was a really friendly section of the race with people encouraging each other. It was really nice to see everyone being so supportive of those slower who were still working hard. The wind had died down, I was really enjoying myself. This was the most beautiful section to paddle as for the first part I'd been too focussed on drafting to see the scenery. My hip flexors weren't giving me any pain and I felt I had a nice, relaxed stroke while still working as hard as I could. My HR strap afterwards told me I was red-lining it a fair bit but I am pretty sure it needs a battery change as I worked hard, but I just didn't have the top end cardio available to push.
The last stretch was great fun but I was struggling to stay drafting the two guys in front and my steering was getting a bit more like slalom as I got more and more tired. I was comfortable enough to run on the waves so that was a bit of fun. I thought it wouldn't be right to just come into the finish drafting the whole time so I moved off and tried to power to the line. No technique and all arms but I finish feeling like I'd had a great race. Only to be topped off by my legs giving way when I got out and I face-planted into the Myall in front of the crowd... oh well, cooled me off nicely!
I really enjoyed the whole race and it's such a fantastic vibe to race alongside so many awesome people from Lane Cove. A huge thank you to Richard A who picked my K1 up from the club and drove it up and back for me. Couldn't have had so much fun without you Rich!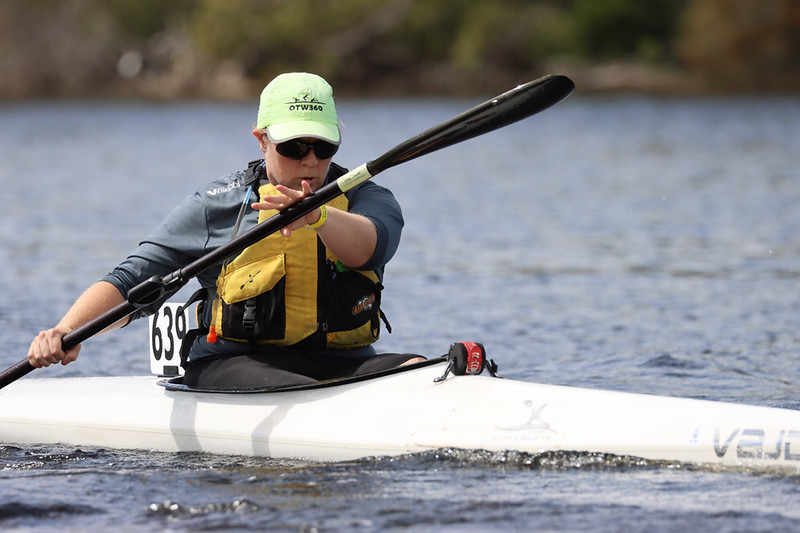 ]]
Ian Wrenford
My involvement in the 2022 Myall was a combo of Safety Boat, and Photography – with a fair bit of involvement behind the scenes supporting Tony Hystek leading up to the day. This was my 4th Myall (never paddled, always Safety Boat).
It was an early start 6:15am on site. We'd planned ahead and launched the IRB the night before – which sped up the launching of the rather important start/finish buoy. Then it was running round collecting lunches, water, boat crew (thanks Crystal Ko!) and safety boat briefing. Then onto the water to be a) clear of the 8am start and b) in position to get some pix of the 8am start 2.5km upstream.
Conditions were idyllic for the entire morning – for photography anyway. The water was mirror like, wind almost non-existent although the current could still be observed going OUT even at 9:30am (after a 7am low tide at Tea Gardens). And then the water was pretty much doing nothing for another hour or two.
After the 47, 27, and 12km starts had all passed us (a little after midday), the first of the 27km finishers started coming back (we were positioned about 4km from the finish) – which was the signal to reposition to the Broadwater to cover for wind induced rescues
Much to everyone's relief, the ominous forecast (ie wind) leading up to the day really didn't eventuate – apart from about a 1/2 hour period at 1pm where the wind (and waves) picked up in the open Broadwater section on approach to the finish. Only the one capsize was noted (by me) in these conditions – although there was a 20 minutes break in camera coverage to provide support for the capsize (sorry folks who missed out on a 'return' photo!).
We followed the last boat back in, picked up the finish buoy, and no sooner were we ashore than it was straight into the presentations. Darren Forbes (Biripi man, and Newy Paddler) provided a thought provoking Acknowledgement of Country – followed by paddling trophies and awards.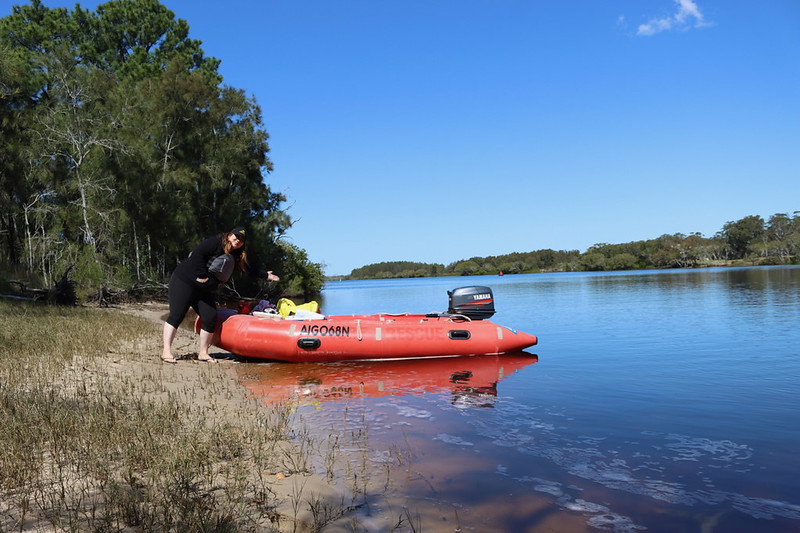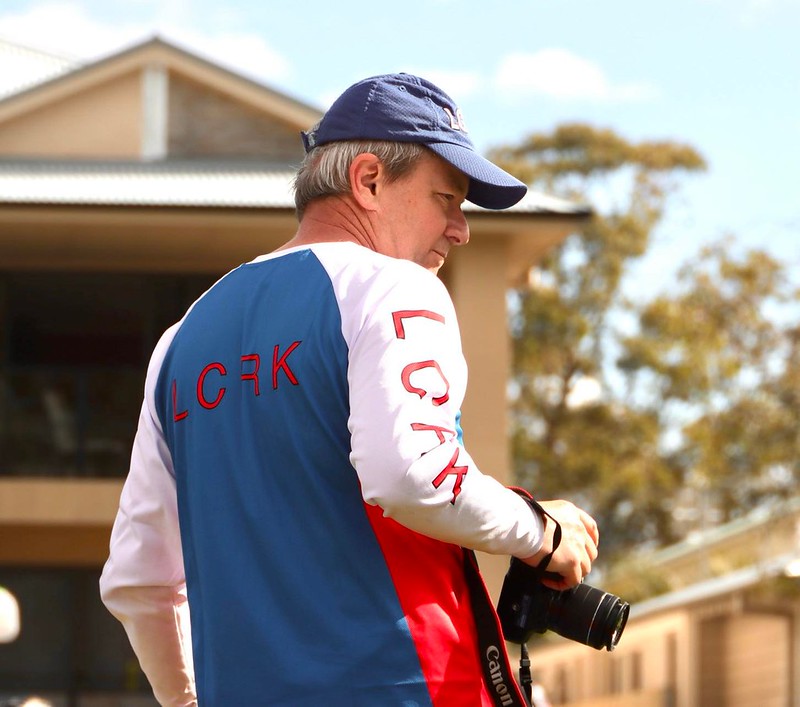 20 August - CCCC 30km Marathon (CCP)
Central Coast Paddlers informally ran this event as part of their normal Sunday Club paddle and kindly extended an invite to other Clubs to participate. LCRKers Duncan Johnstone, Don Johnstone, Chris Johnson, Naomi Johnson (no, none are related despite what CCP might have thought) took part. Below is the results report from CCP:
Hi Members and Friends,
We were pleased to welcome Members of Lane Cove River Kayakers and Brisbane Water Paddlers today - and the conditions were excellent!
In the handicapped 30km, Geoff Dawes & Alby Cobb were first home. MIck Carroll and Murray Dell, BWP, were fastest - for the Van Stappen Trophy.
Don Johnstone, LCRK, was the Fastest Male Paddler in a single craft - Naomi Johnson, LCRK, was the Fastest Female Paddler in a single craft (and fastest outright single!), for the Handicapper's Trophy.
LCRK President, Duncan Johnstone, won the combined 7.64 & 11.35km. Rob McPherson, CCP, 2nd, had the fastest time, and Visitor, Allan Newhouse was third - a PB by one second!
Lucky Prizes went to Duncan, Geoff and Alby - First, and Rob, Mick and Murray - Fastest.
Thanks to the Helpers - Margaret and Rob - with Special Mention to Max and John for "putting out" and "retrieving" the buoys.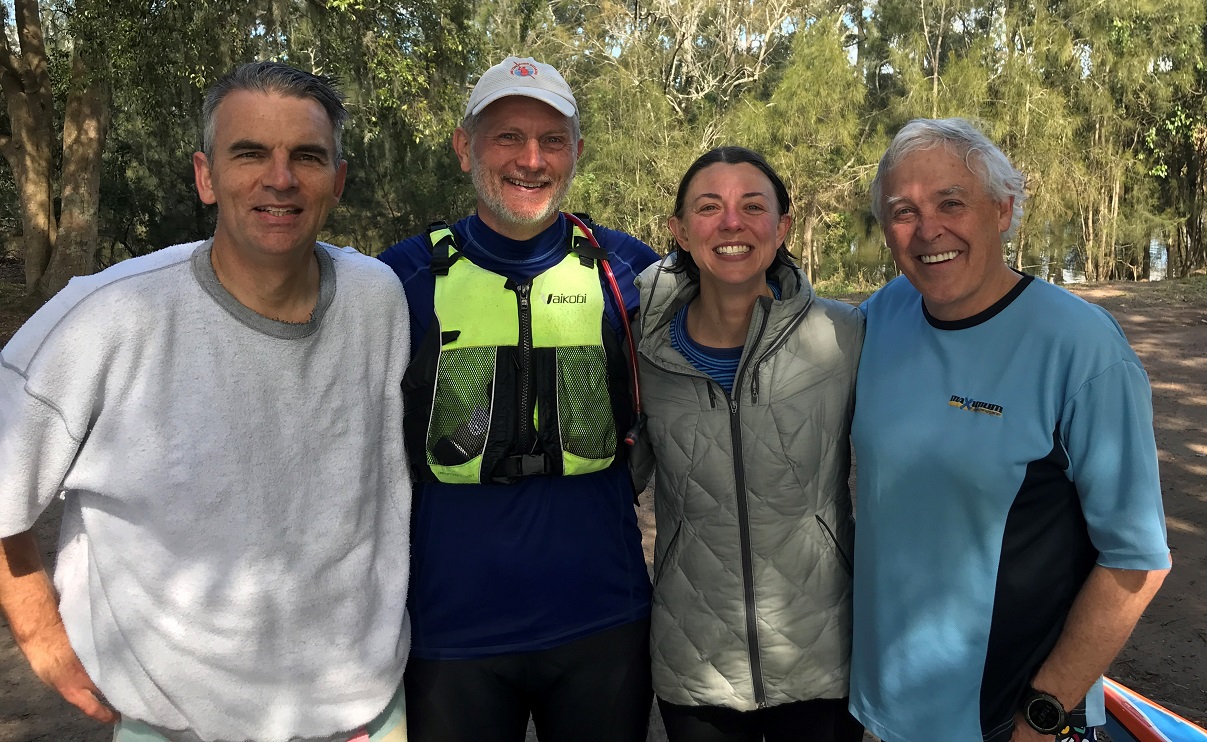 Above: the J Team!
11-13 June - Riverland Paddling Marathon (RPM)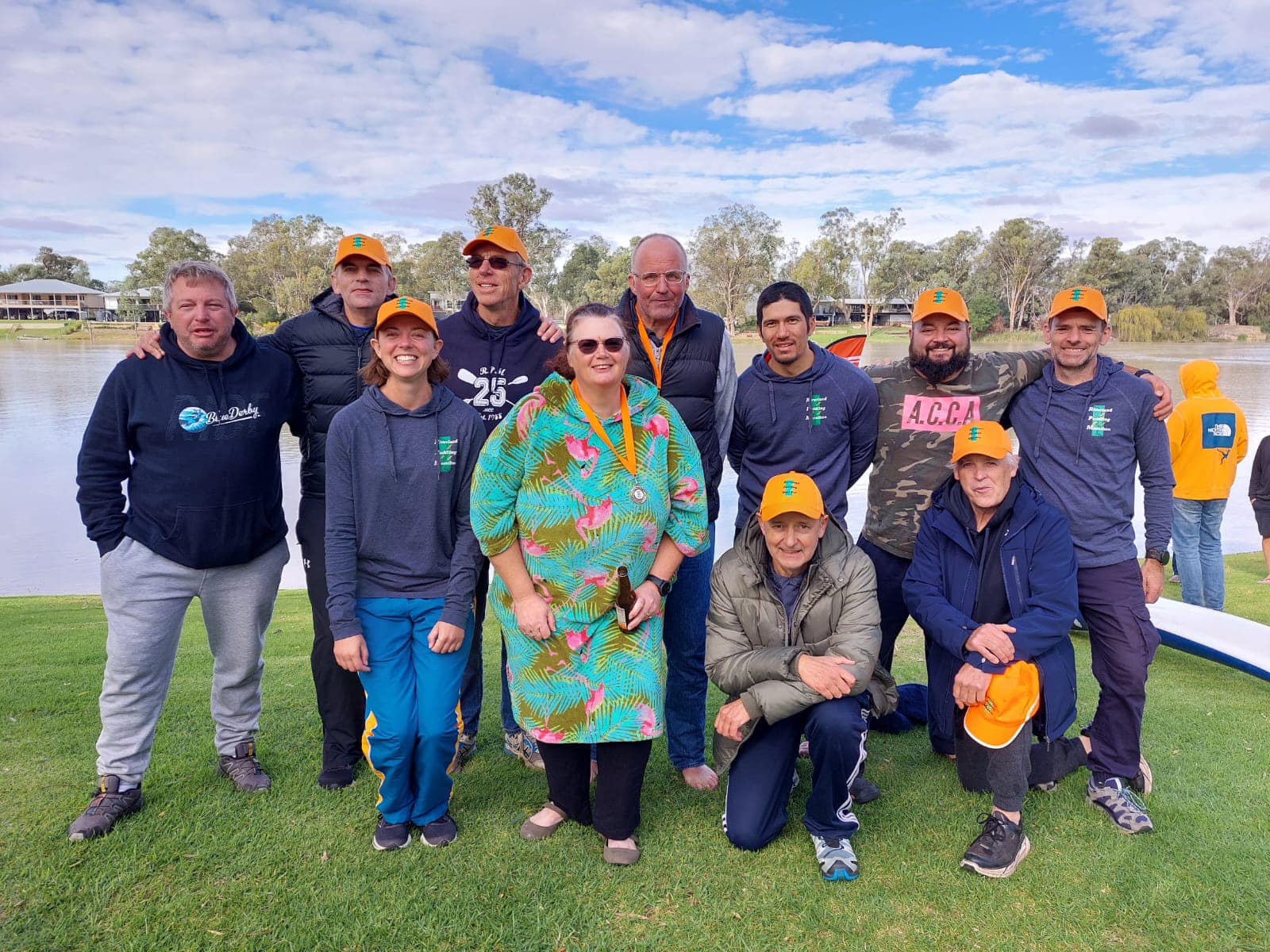 Summary of LCRK results - the first 4 results below were category winners for the race.
1. Naomi Johnson 17:11:09 minutes / will be the new fastest womens time for the course also fastest individual paddler in the race.
2. Chris Johnson 17:44:25 minutes
3. Cheezels keg, Ghengis, Rich Duncan 15:51:11 - just outside a record(?)
4. Wade + Tony 16:38:23 minutes think this might also be a record
5. Anjie + Dave 21:16:11 minutes a fantastic effort they saw more wind and scenery.
6. Tom S - withdrew on Day 2 in the cold/windy conditions – but made it to dinner!
Individual race reports follow in PDF format.
Naomi Johnson Report
An extract below to whet the appetite:
...This time when the lock opened and the buzzer went to restart the race, I was first out the gates. I was feeling great and up for the thrill of chasing the record, aiming to get out in front of the main pack and then jump every wash that came past. The Cheezel Crew dashed away into the flow with Tony hot on their tail, and I managed to join up with Andy and Lisa Singleton whose wash had thus far eluded me. Tuck in behind, long strokes, good rotation; I was determined to stay on for as long as I could. 7kms goes by quickly at 13kph, but ultimately the 'Singos' were just a bit too fast for the long-haul and I was on my own, still trying to push at 20km marathon pace! Thankfully it wasn't for long, with my favourite double Richard and Mary catching me at 35kms to go. They knew my goal and were up for working together, ploughing towards the finish at a speed where I could just, barely hang on. Past the winery checkpoint, quick stop for food, then hurtling towards 20kms to go and the long straight towards a final checkpoint. I was really pushing the envelope of what I thought should be possible for this distance, willing myself to hang on for a kilometre, then another one, and another.
Chris Johnson Report
An extract below to whet the appetite:
...Getting the Horizon Rocket set up on the morning Tony + I managed to dislodge the race number which fell in water – Tony scooted over to race officials grabbed a replacement number installed – this meant I started a minute or so behind my wave. So paddled off a little stressed & was working out how much energy to spend on the 20 km to Overland Corner I decided to go out pretty hard / It was a fast paddle to the Lock at Overland (speeds touching 14.4 km, mostly sitting on 13 km).
Whilst not pushing heart rate into crazy zones - I passed all other paddlers arrived first at the Lock & had no clue where to stop paddling, I paddled to the rescue boat who did not know and then paddled over to the bank near the Lock opening – a chap who had literally just arrived behind a large gum tree said I could stop paddling. Genghis helped me out & Wade was there with all the jackets & gear (great team). Not that I am competitive but I did keep my Garmin running & Naomi finished that section in a similar time / same as Tony.
A highlight on the way to the lock was passing Tom S, at the same time a snake swum under his ski & then my kayak – it's great to say hi to the other paddlers on the river....
Team Pablo - Rich, Keg, Ghengis, Duncan Report
An extract below to whet the appetite:
The race starts in Berri which is about a 45 minute drive from Lowbank. That means a 4:30 wake up, breakfast and dark drive through kangaroo country to Martins Bend. There the various boats are kitted out, scrutineered, admired and eventually launched.
Boats are launched in waves to try and have all vessels arrive at the next checkpoint (the lock) at the same time to minimise waiting in cold wet gear. The bird life in this part of the country is simply spectacular. Boats are launched in waves to try and have all vessels arrive at the next checkpoint (the lock) at the same time to minimise waiting in cold wet gear. The bird life in this part of the country is simply spectacular. Pelicans are the boss bird around here but the foreman would be the Kites that patrol the river swooping spectacularly down on unsuspecting fish or small children.
One pair of kites had a disagreement about the ownership of a fish they had caught, this fish ended up being dropped in their argument on top of an unsuspecting landcrew member at the site. She thought it was the start of the rapture, assaulted by a junior carp while walking to your car, imagine that!
The kites nest in eyries along the river and share the skies with corellas, cockatoos, cormorants, pelican and eagles. It is a bird nerd's paradise.
Pablo's day 1 Pairings were Keg and Genghis, Sir Duncan and Rich. With Keg and Genghis starting the first 12km leg. An easy morning Time trial. Sir Duncan and I hopped in for the first lock. This is my 5th RPM and the drop in the river at the lock is usually around 3m. This year the drop was only about a metre so that gives you some idea of the water in the river.....
Wade Rowston & Tony Hystek Report
An extract below to whet the appetite:
Our reward (more like punishment) for a great first day was to be placed on the last start time with 3 doubles. Team Pablo, Richard and Mary, and the Singos. Fortunately we had decided early on that Tony would start the day and paddle the 20km leg to the lock. Showing no fatigue from the previous day he stayed with the Singos for the full distance to the lock.
I took the next leg of 23km. I was happy with my exit from the lock, given it was only the second time I had done it (last year I only did it once). Unfortunately, I just missed a wash ride on a double (Naomi did well and stayed with Richard and Mary then then a ski paddler from SA). I had a gruelling leg on my own with lots of really tough long sections into a strong breeze. Chris passed me early on and was looking strong but I managed to sneak ahead in one of the windy sections. By the changeover Namoi was about 300 metres ahead.
Tony took over for the third 14km leg and he said it took him ages to catch up. Another really strong paddle in difficult conditions. By the changeover he was about 50m ahead of Naomi. I cruised until Naomi had caught up and had some sustenance then we powered through the 12km leg together with more windy sections to the finish.
The strong headwind sections were the talk of the day and a number of paddlers had to pull out including Tom Simmat who was tipped in by the wind and was headed down the hypothermia path when he was picked up by the safety boat.
Dave Hammond & Anjie Leys "The Sweeps" Report
An extract below to whet the appetite:
...Day 2 was more about survival than racing and although we were faster than last year we paid the price when the clock stopped. We raced well on day 3, even better when we realised CPB was at 15km not 31km. That cost me a few hours sleep on Sunday night. But none of the hard core paddlers stopped so it was depressing watching the field paddle past, well until we had another sip of Clays chicken soup.
The Riverland is a beautiful place to paddle. The locks each day provide a well earned break with no time penalty, well that's until you try and exit the lock, time can catch up real quick if you don't paddle hard through the chop. The cliffs towering over the river are beautiful and at time feel endless. You don't always get to appreciate the scenery when you are racing for "sheep stations" but down the back of the pack "The Sweeps" had that bit of extra time to soak it all in....
Yukon River Quest 22-25 June 2022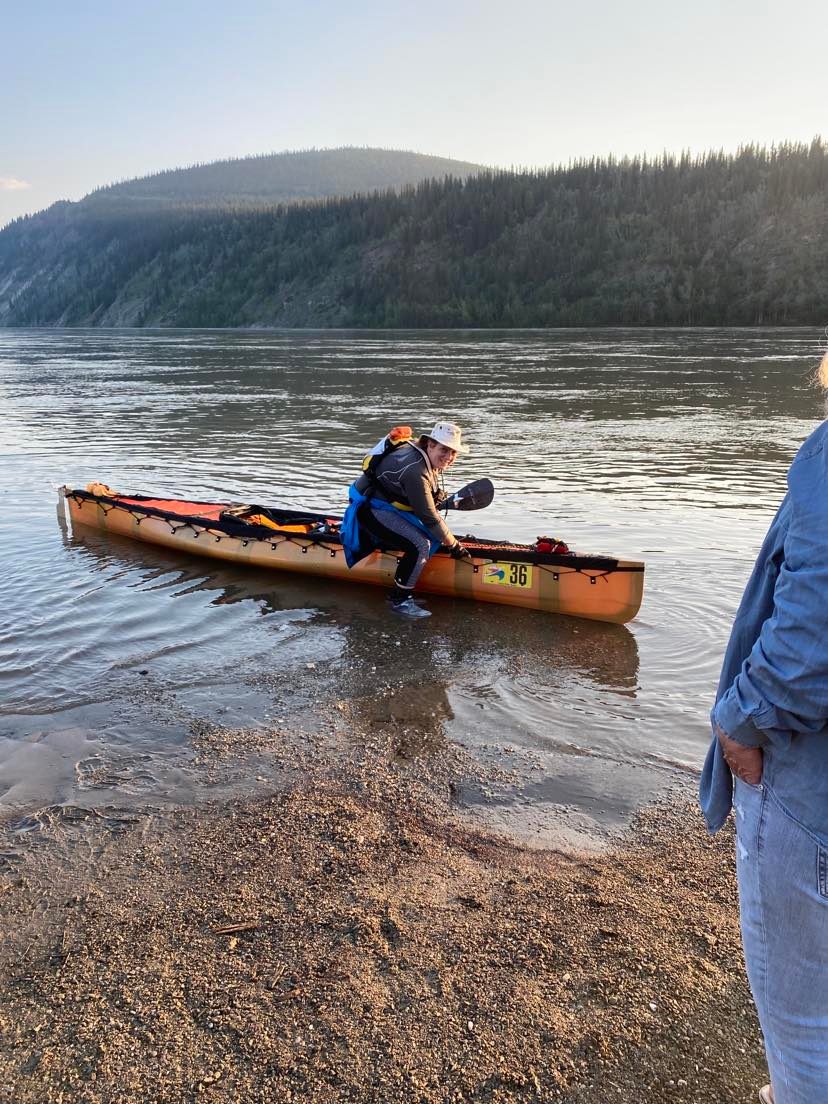 Above: Esther at the finish (Photo: Yvonne)

Above: Esther - 1st Solo Womens C1 (and a new record)

Above: Esther - 2nd outright - Solo C1