MEMBERSHIP OPTIONS
LCRK Membership is now yearly from the date of joining and is combined with Paddle NSW/Australia Membership:
LCRK Senior Member
* Renewing Member $75pa
* New or Lapsed Member $85pa
* Plus optional prepaid Time Trials $70pa
* Standard adult paddler
* Eligible for Cup points and handicap is assigned.
* Combined with PaddleNSW/Aust membership

($80 annual fee applies)


.


LCRK Junior
* Renewing/New/Lapsed Member $45pa
* Plus optional prepaid Time Trials $30pa
* >12yo & <18yo at 1-Jan
* <18yo must be supervised by Parent/Guardian
* Eligible for Cup points and handicap is assigned
* Combined with Paddle NSW/Australia membership

($30 annual fee)




.

LCRK Remote, Non-Paddling or Volunteer Member
* $35pa
* For a Non (or VERY occasional) paddler
* If paddling, but not a PaddleNSW member, must
complete a PaddleNSW for
insurance

($20 fee applies)
To Join LCRK and PaddleNSW/Australia:
Complete online processes at this link:
NOTE 1: It is a requirement that all Senior & Junior LCRK Club Members are also PaddleNSW members as part of our affiliation - an additional $85pa.
NOTE 2: PaddleNSW membership is hand in glove with Paddle Australia - $85 registration covers both.
NOTE 3: After online registration, LCRK membership is subject to Committee acceptance.

All Members:-
Must stay familiar with all Safety requirements.
Must wear a Lifejacket.
Must display a dull (non-glary) white light fore and red light aft when paddling after civil twilight.
Must wear suitable footwear if a Junior Member or unfamiliar with the course.
WHAT DO I GET WITH MY MEMBERSHIP?
LCRK activity is centred around year-round Wednesday evening events of 6,9 or 12km distance. This friendly rivalry provides the springboard for other activity by members which might include:
Involvement in regular and ad hoc Group training and Group paddle activities for fitness and/or in preparation for upcoming events.
Participation in the PaddleNSW inter-club marathon and sprint kayaking season across NSW.
Participation in iconic NSW events such as the Hawkesbury Canoe Classic, Myall Canoe Classic and Murray Marathon.
Interstate travel for events such as Avon Descent (WA), Riverland Paddling Marathon(SA)
Overseas travel for events such as Yukon 1000 (Canada) & Fish River Canoe Marathon (South Africa)
Support for personal challenges including Guinness World Records, crossings of the Bass Strait or Tasman Sea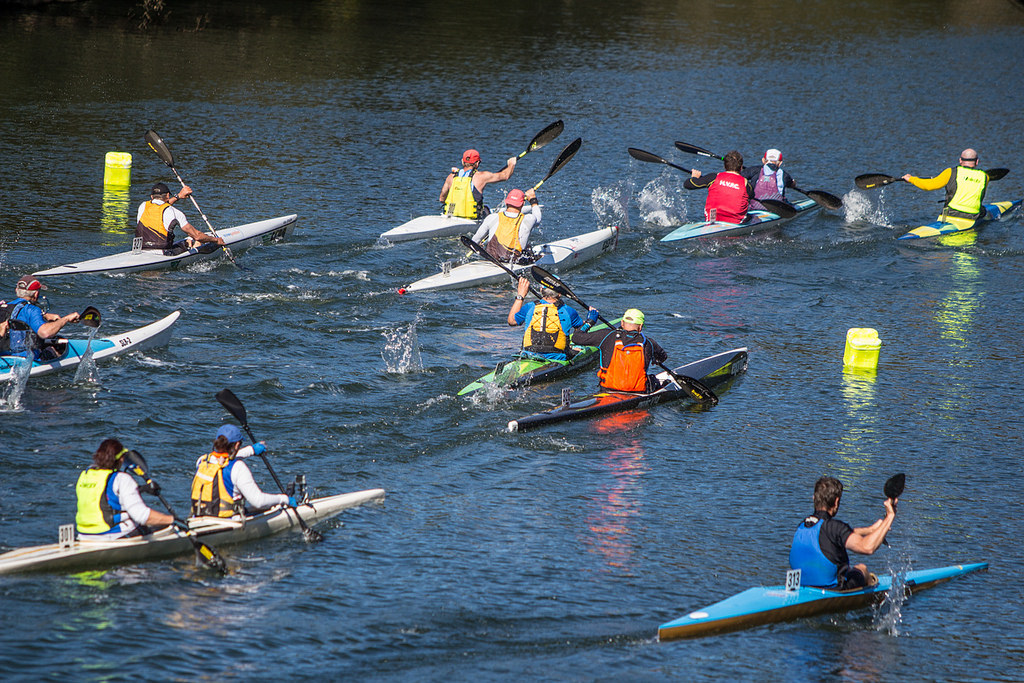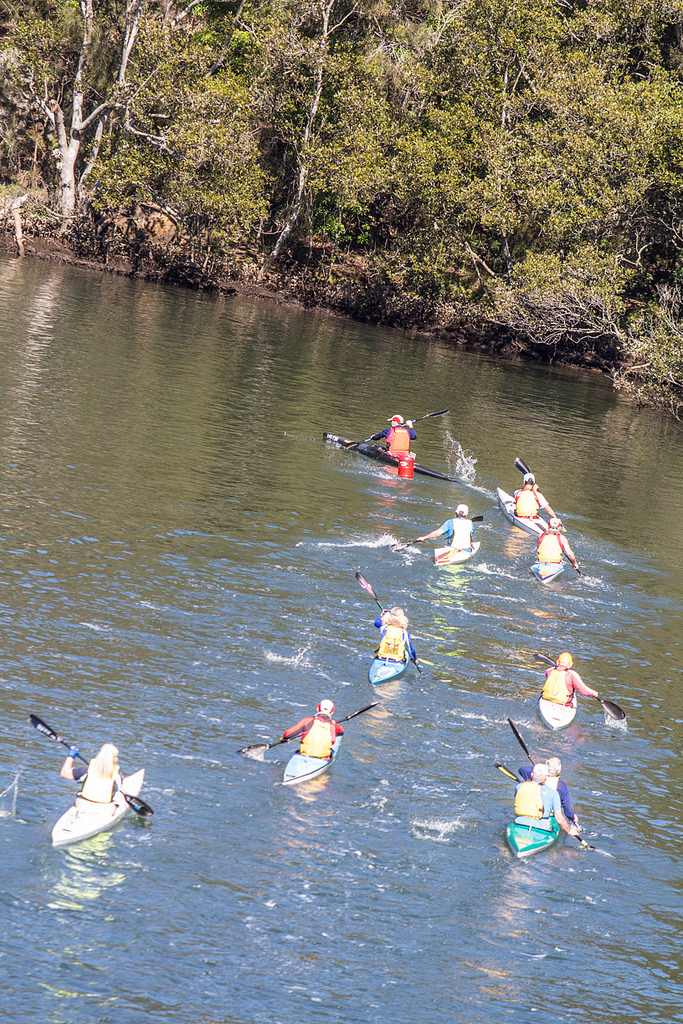 Amongst the competitive activities, the Club is a social and friendly group spanning all ages, with participation across individuals, partners and families. Involvement may simply be a mid-week after-work stress reliever, or you may want more:
In addition to the racing, there is the opportunity to become actively involved in volunteer activities around the kayaking fraternity.
Socially, we have an informal cafe service (or a monthly BBQ) after the Wednesday time trials and other activities at Xmas and at various times through the year.
The club is regularly involved in Clean Up Australia day activities on the Lane Cove River.
The club at times plays host for Duke of Edinburgh participants.

Facilities at the Club include:-
A Club Shed as our base for the Wednesday night time trials and activities before and after.
Ample car parking with easy water access via our launching pontoon giving direct access to the Lane Cove River.
Whilst most Members own and bring their own boats each week, a range of Club boats is available for hire by Members. Club boats are mostly suitable for the intermediate to experienced paddler.
Boat storage - much of which is reserved for club boats, however with a waiting list for hire of a limited number of boat storage racks by Club members.
Boat washing facilities, as well as hot showers and changeroom facilities.
An active online presence across a range of media.
LCRK PARTICIPATION - NEWCOMERS

The Club facilities necessitate at least basic kayaking skills. Most newcomers will already have their own boat, have paddled recreationally around Sydney's waterways and be looking to become more involved in the sport. Others will be very experienced, but have not been involved with a Club before, or are returning to the sport, or are simply new to the area. You're welcome to 'try before you buy' and have a paddle with us as a visitor, as explained below.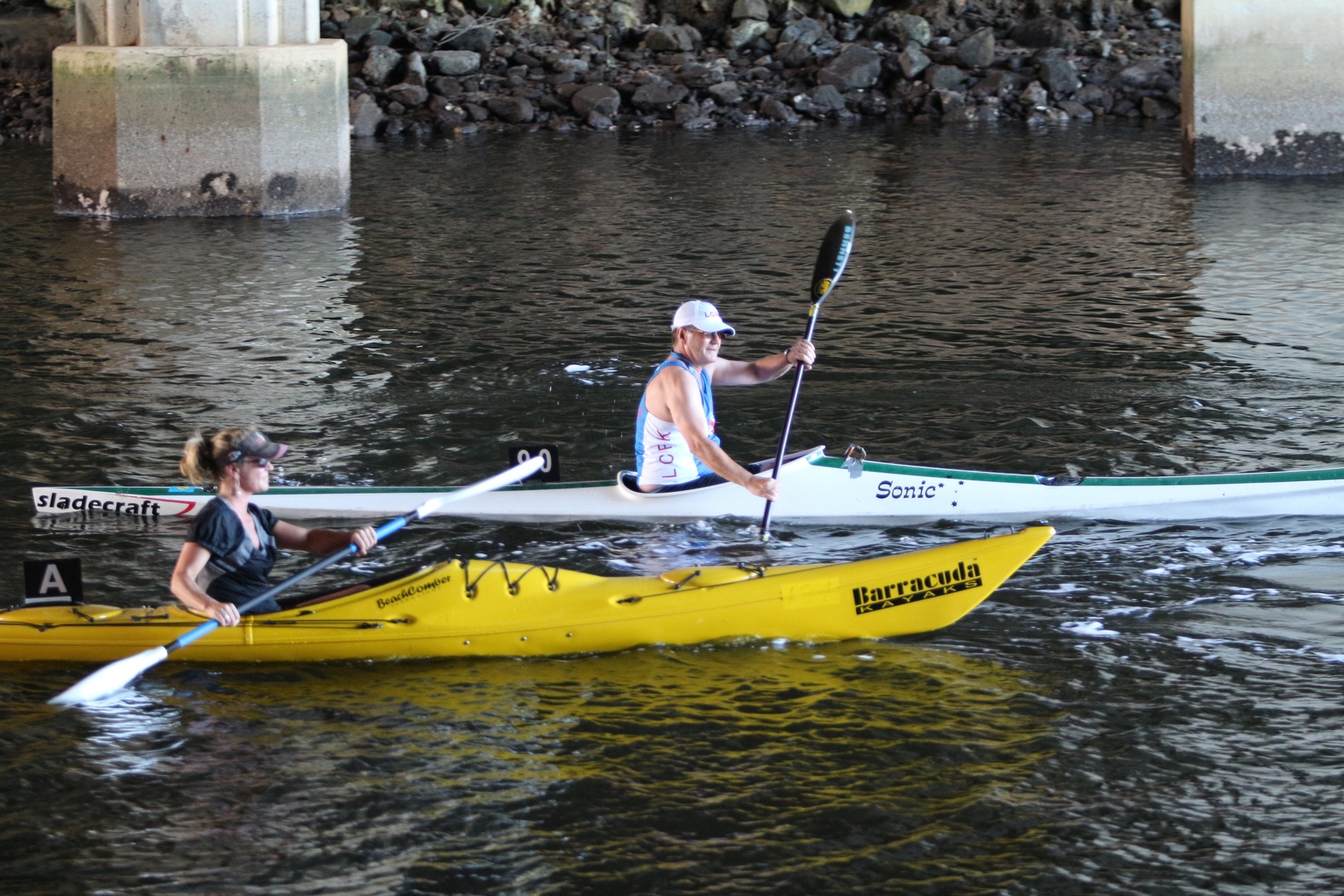 Proficient newcomers with paddling experience and their own boat are welcome to participate in LCRK Wednesday evening Time Trials all year round.
Proficient newcomers with paddling experience but without a boat should firstly come along any Wednesday evening to view proceedings, and then if still interested can make a booking for a Club boat for the next suitable Wednesday.
Novice newcomers are encouraged to firstly gain experience either by i) participating in kayak training courses available across Sydney (eg, at Prokayaks or Freedom Outdoors), or ii) purchasing their own boat, getting on Sydney's waterways and learning the basics. Once a reasonable level of proficiency is established, you should be ready to tackle what the Club can offer you.
All Newcomers:-
Will be charged a fee of $30 covering PaddleNSW single event registration and the supply of a Club boat (if required).
Must book in prior to attending. Email committee(AT)lcrk.org.au
Note the 3rd, 4th or 5th Wednesday of the month are ideal for visitors.

The 1st and 2nd Wednesday are competitive 'Cup' nights with most Members distracted by their ambitions for Cup points

Must familiarise themselves with all Safety requirements before attending and be able to self recover in the event of an incident.
All newcomers must wear a PFD (paddling life jacket) and suitable shoes whilst the course is unfamiliar.
Should have a look at the course map and/or video of the 6km (or 12km) course
Must complete their first time trial session with an experienced paddler (committee will advise you). Current LCRK Members introducing a newcomer are required to accompany them on their first paddle
Are limited to 5 events per year and encouraged to become a Member.
Are not eligible for Crudslime Cup, Coffee Cup or Doubles Cup points.
CONTACT LCRK

For further information come down to the pontoon at 5:30pm Wednesday evenings for a discussion and to observe proceedings (contact us beforehand if you intend on paddling)
or
email committee(AT)lcrk.org.au
Note: Replace (AT) with the normal "at" symbol.


LANE COVE RIVER KAYAKERS
PO Box 610
Lane Cove
NSW 1595
---
Facebook
Some members and friends of LCRK share information on an unofficial Facebook page.