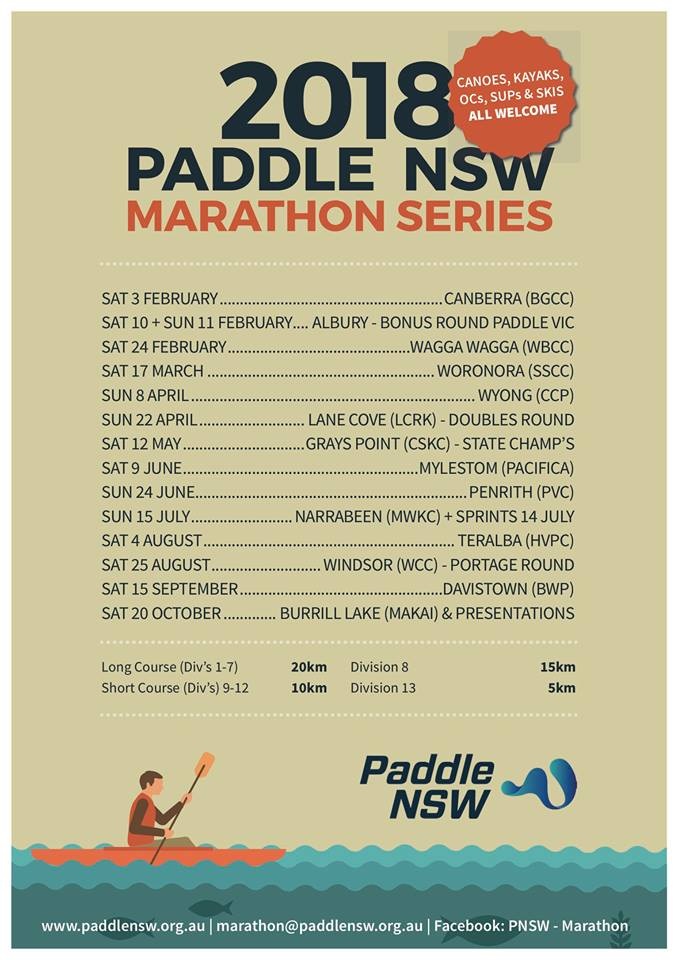 Club Point Score - after Round 4 (unofficial)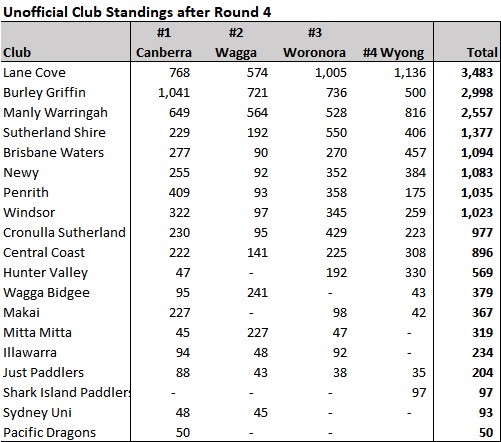 Round 5, Lane Cove - Sun Apr 22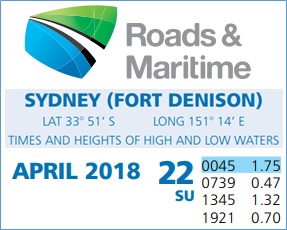 Above: RMS tides
Paddle NSW's Marathon Series #5 is being hosted by Lane Cove River Kayakers on Sun 22 April 2018. Entries are OPEN and see below for links and general info on the location.
Round 4, Tacoma (Wyong) - Sun Apr 8
Marathon No. 4 took us to Wyong/Tacoma for an unseasonably hot day of heated racing. With a record LCRK turnout of 44 boats across all 13 divisions there was a great vibe on the water and some fantastic results.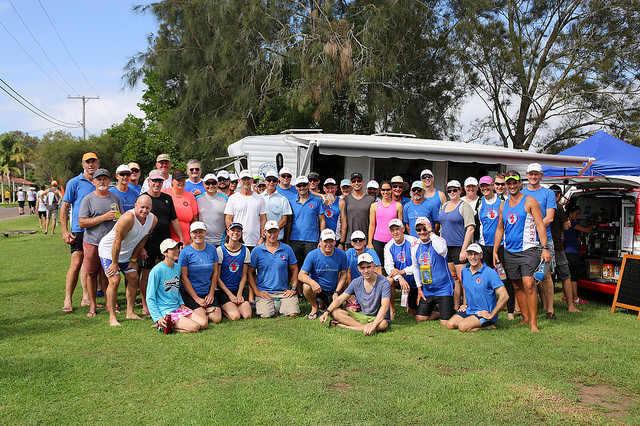 Above: Lane Cove out in force for a hot day of racing at Wyong
The day must've dawned very early indeed at Tacoma because by the time the 'I'll give myself plenty of leeway' group arrived at around 9:15am there was already a solid walk from the end of the parked cars to the start line. By briefing, the snaking cars and boats had grown still longer, and the sun was beginning to beat down as fiercely as it did in February.
It was Rodrigo's birthday, so let's start with Div 4. The biggest start of the day, Div 4 boasted 21 boats with plenty of skis and a few doubles in the mix for good measure. To say the water was rough is a bit of an understatement! Rodrigo and Jeremy Spear broke away quickly in a tight pack of about five boats, and proceeded to be a speck on the race horizon for the next hour and a half. When the gloves came off for the final sprint, Rodrigo crossed the line first in a strong time of 1:51:22 in his new K1, with Jezza taking out 3rd just 6 secs behind. Fantastic work on such a hot day! Rounding out the strong Div 4 field were Naomi Johnson (8th), Tom Simmat (10th), Don Johnstone (12th), Lee Wright (17th) and John Duffy (18th), with Trevor Nichols looking strong in his ranking race. Wade Rowston, along with several other paddlers, decided to take the safe and sensible option of a DNF rather than push on in the heat.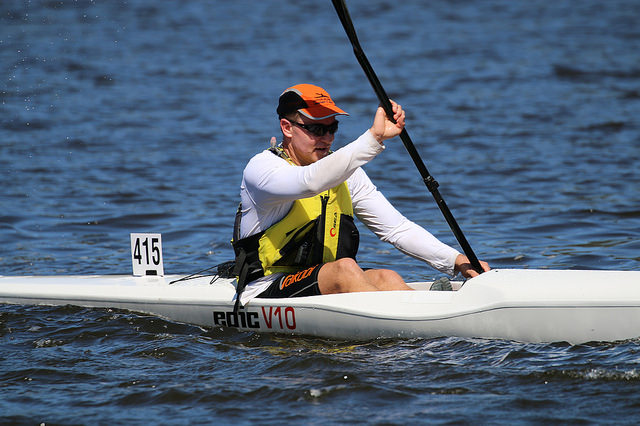 Above: Trevor paddling his ranking race
Above: Rodrigo powering to victory in Div 4
Where did all the hoards of Div 4 paddlers come from? Well apparently Div 5,which was down to just six boats. Still plenty of Lane Cove action though, with Jeff Hosnell crossing the line 3rd followed by Tim Hookins (5th) and Phil Geddes (6th). Only slightly more boats in Div 6, where Oscar Cahill was the top LCRK finisher in 8th, followed by the duo of David Hammond and David Veivers in 10th and 11th. Linsday Frost (5th) and Anjie Lees (9th) where the Lane Cove paddlers in Div 7 – an awesome effort from both to spend so long out in the water in that heat!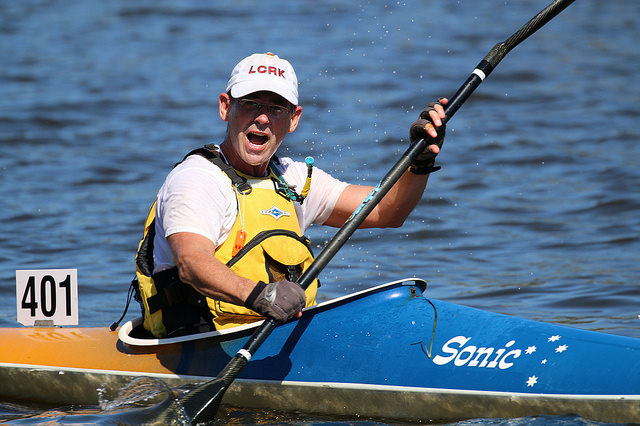 Above: John Duffy ordering a cold beer for the finish!
On the topic of heat, yes, it was a lot hotter than usual. Though pipped by Monday 9th as 'Sydney's hottest April day on record', the thermometer was certainly sitting a lot higher than everyone expected. Here's to a cooler outlook for the upcoming races? Or maybe the secret to Lane Cove success is we can out-swelter the competition?

Paddlers were out in force in Div 3, with the trio of Lane Cove doubles continuing their showdown. Peter Manley took out the division in a time of 1:45:59, apparently narrowly avoiding a promotion, followed by David Young in 3rd. Keep your eyes peeled for that doubles combo at the Lane Cove marathon on April 22nd! Of those doubles already getting in some early training Richard/Keg finished in 5th, Matt Swann/Duncan in 10th and Greg/Warwick 11th, with James Pralija rounding out the division in 9th. A slimmer Div 2 saw Mark Hempel speed into 1st with a time of 1:42:02, and Tim Binns finish 6th just a minute and a half later.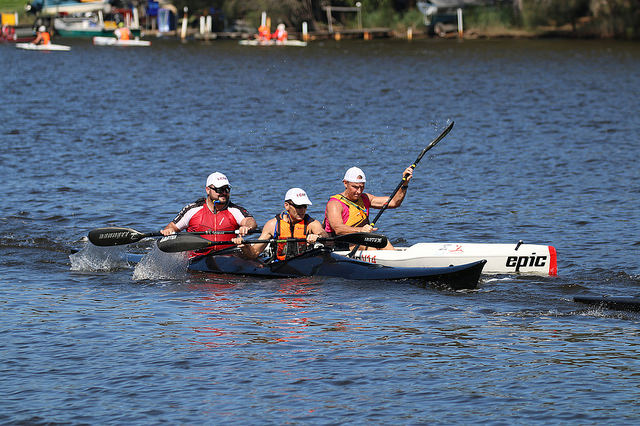 Above: More Div 3 action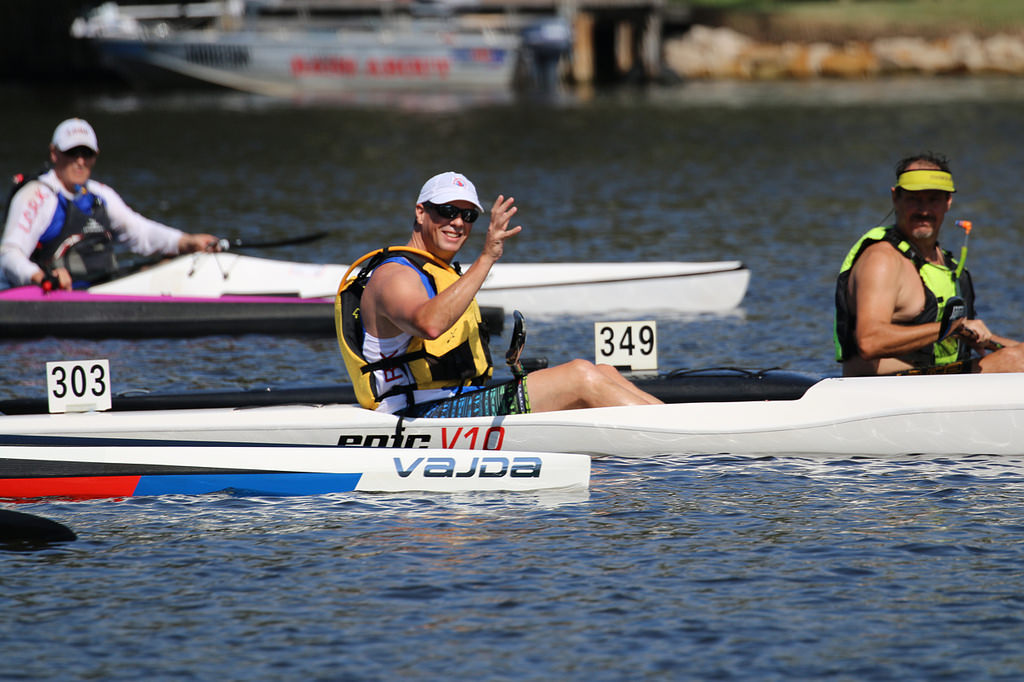 Above: Pete M in the Div 3 start
Has anybody else noticed that there are suddenly a lot of Lane Cove boats in Div 1? What was last year 'that other division' fought out by Stewart O'Regan, Tony/Alanna and a bunch of guys going so fast we couldn't read their boat numbers suddenly has a few more LCRK paddlers. Stewart finished 2nd in a blistering 1:33:18, just two seconds behind Brett Greenwood (paddling for Manly), with David Coward taking 3rd only half a minute later. Recently promoted from Div 2, Cameron Cox finished in 7th, followed by Suzie/Mitch (10th) and Tony/Alanna (11th).
Despite a clear preference for the 20km divisions, there were also plenty of Lane Cove paddlers in the shorter distances as well. Robert Dunston and John Greathead finished 3rd and 6th respectively in Div 13, with no LCRK boats taking up the option of grandparent/grandkid doubles (we're looking at you, Rowstons!). Chris Allchin won Div 8 in a time of 1:21:55, with Jeff Collins (4th) and Caroline Marschner (6th) both completing their first marathon series race.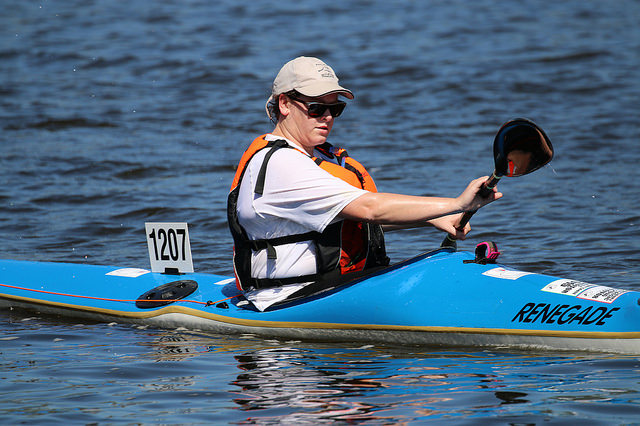 Above: Kyla rocking Div 12
Above: Jeff C in Div 8
Kyla Johnstone was first over the line in Div 12 with a time of 1:10:21, and Lachie Wrenford finished 3rd. Ian Wrenford was the sole LCRK boat in Div 11, finishing in a solid 4th and for the first time this year not immersing himself in the water to take finish line photos. The final two 10km divisions were both rather full, with 15 boats in Div 9 and 20 in Div 10. Len Hedges and Paul van K finished 13th and 15th respectively in Div 9, while Peter Harris (13th), Paul Burges (16th) and Brendan Gay (18th) were in the Div 10 field. With new rules in place allowing paddlers to stay in the 10km divisions rather than bump up to longer distances, it looks like these races are going to continue to be hotly-contested.
With so many boats and excellent performances across a number of divisions, it's hardly surprising that Lane Cove has taken the lead in the club points tally. Let's keep the ball rolling in round five, where we're on home turf and have the bonus points of the doubles. As always thanks to Lesley Manley and Ian Wrenford for their superb photos, to Paddle NSW for their continued efforts to get everyone involved, and more broadly to everyone on the bank who cheered us through a hot race!
An extract of the race results below....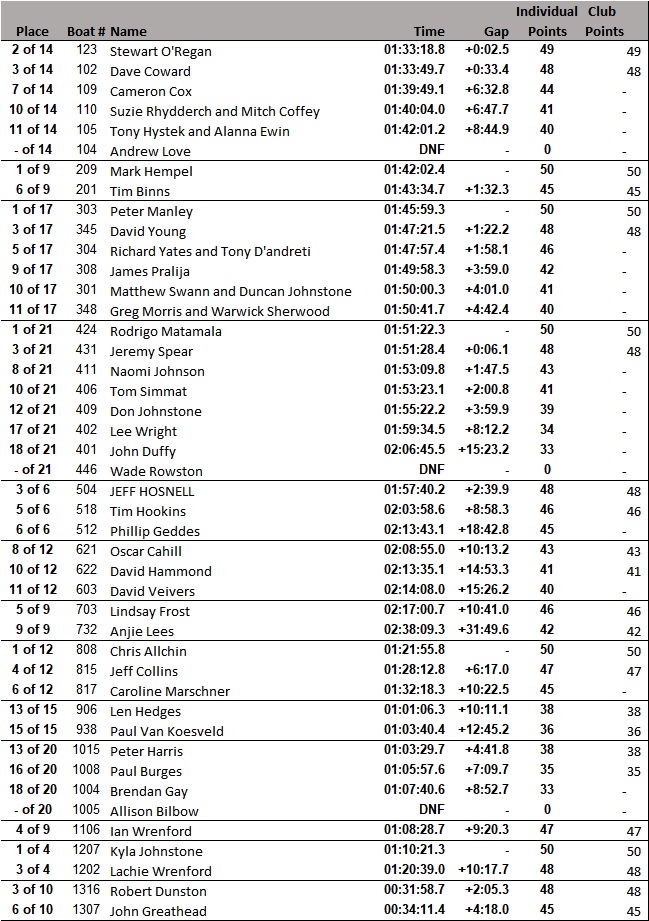 Round 3, Woronora - Sat 17 Mar
Race report by Naomi Johnson

Round three of the 2018 Marathon Series took us to Woronora for stunning views and a hot day of racing. Finally a little closer to home, Lane Cove was out in force with paddlers in every division and some great performances from old and new faces alike.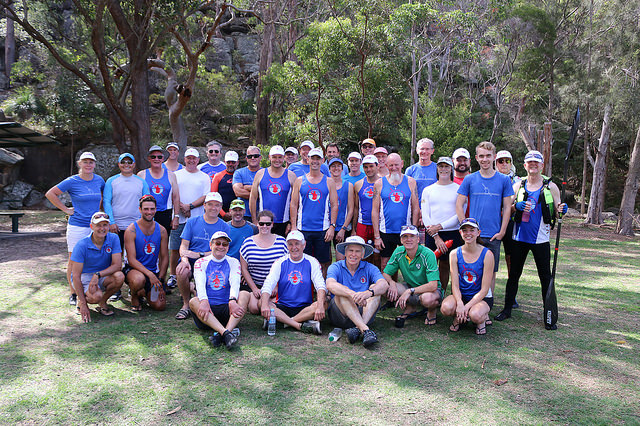 Above: Bright in blue - almost all of the Lane Cove team at Woronora
There was no way around it; the forecast for Saturday's race was hot from the outset. The idyllic course at Woronora starts at Burnum Burnum Reserve and winds up the river, passing houses and parkland, and going over plenty of shallows. It's quite the spot for the spectators too, with sweeping bridges giving a bird's eye view of the final run into the finish. And while the setting was picturesque, the heat was a killer out on the water.
With a race closer to home, Lane Cove fielded a team of 40 paddlers in 35 boats, and plenty were beginning to find their rhythm for the season. Div 3 was the biggest start, with 18 boats lining up across a thankfully wide river. Among them were no fewer than three Lane Cove doubles, with Matt Swann/Duncan Johnstone (14th) and new marathon series pairing Richard Yates/Keg joining 2017 regulars Greg Morris/Warwick Sherwood (11th). Could this trio turn into one of the big showdowns of the year? Also in Div 3, Peter Manley finished in a fantastic 2nd place and David Young in 6th.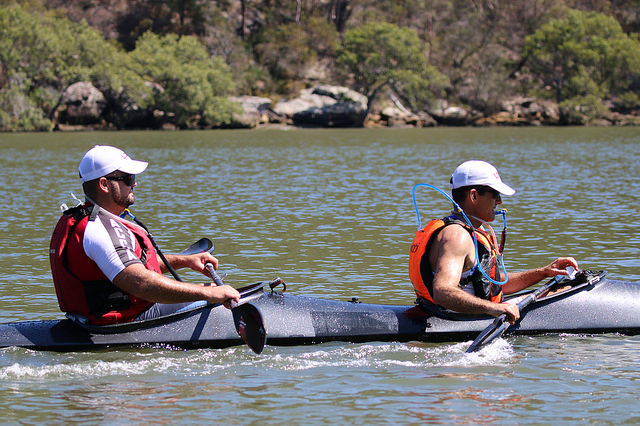 Above: Richard Y and Keg complete their ranking race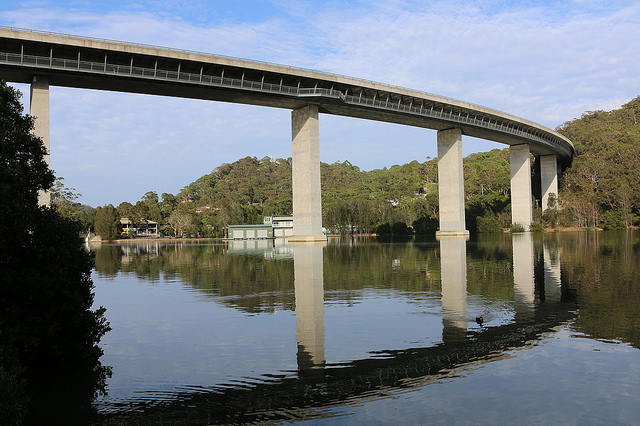 Above: Woronora Bridge looms over the finish
A division down, and the competition was no less fierce...at least for 5th place! With six paddlers in Div 4, LCRK looked set, with Rodrigo Matamala, John Duffy and Lee Wright all storming off in a quick start. We slowed a little in the final lap, but managed to take out every place from 5th to 9th (in order: Tom Simmat, Rodrigo, Naomi Johnson, Lee, John) with Don Johnstone finishing in 11th. Wade gave paddling a miss, but came along to pick up a brand new Quantum Tornado (see picture!) for the club. Let's hope someone will take it out at the next race.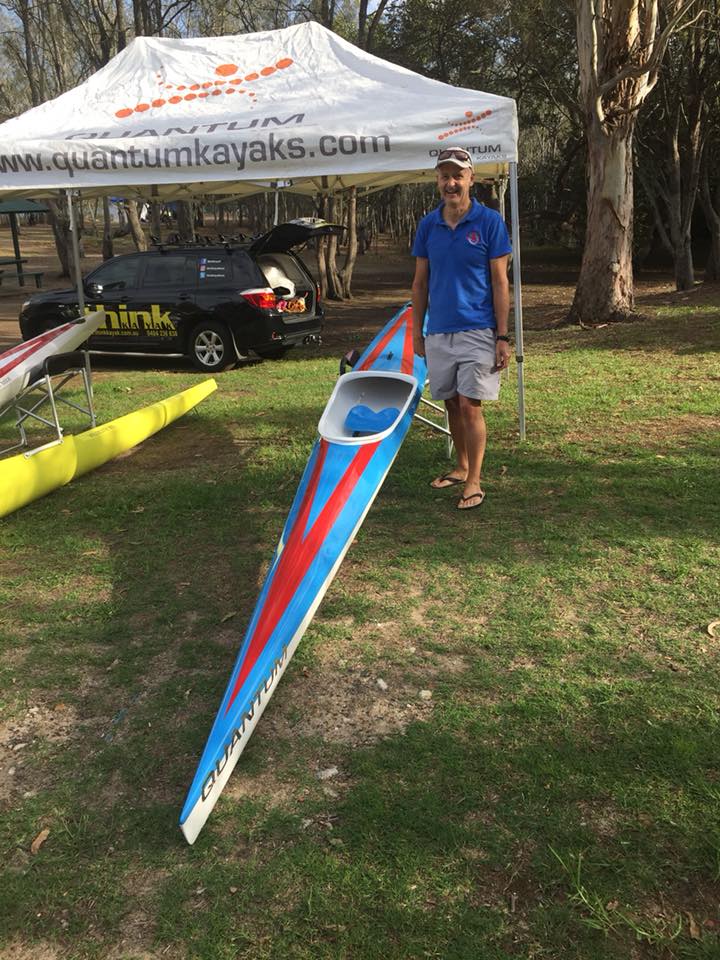 Above: Wade with the club's new Quantum Tornado
Divs 5 to 7 were a little thinner on the ground, possibly because everyone keeps getting promoted! In Div 5, James Pralija stormed to victory in a time of 1:48:31, passing every Div 4 boat while he was at it – a fast track to Div 3 in order no doubt. Paddling at a more division-appropriate speed, Rob Llewellyn-Jones and Jeff Hosnell finished in 3rd and 6th respectively, while David Veivers and Oscar Cahill finished 10th and 12th in Div 6, and Lindsay Frost 4th in Div 7. Oscar spared no expense or colour to let everyone know it was St Patrick's Day, decorating his boat with Irish flags and providing fellow paddlers with a soundtrack to match.
Not only was it St Patrick's Day, but it also turned out to be a bit of a Family Day for Lane Cove paddlers. Along with the familiar faces of our regular landcrew, we welcomed Pete M's parents, Jeff H's parents-in-law, and Naomi's parents on a weekend trip up from Melbourne. Her dad Steve is soon to take up kayaking, and has promised a father-daughter showdown at one of next year's marathon series...stay tuned?!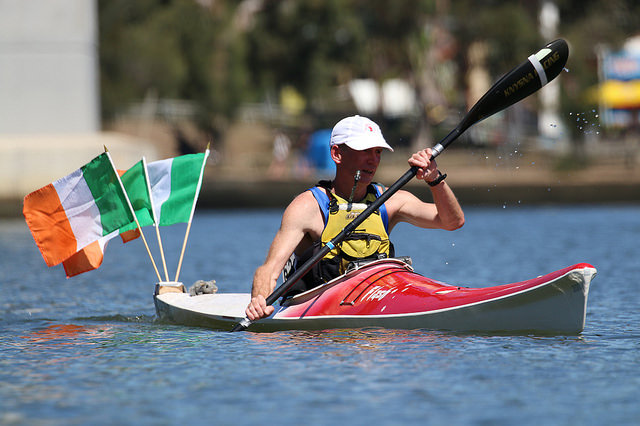 Above: Oscar decked out to celebrate St Patrick's day
In the 10km divisions, Allison Bilbow took the opportunity for maximum cool-off efficiency, opting for a quick dip and boat re-entry right on the start line. The tactic seems to have worked, because she finished 2nd (just 9 secs off!) in Div 11, and looks like she might be heading for Div 10 very soon. Paul Burges (3rd) and Ian Wrenford (6th) rounded out the division, with Ian quickly submerging himself in the water at the finish to cool off, and get close-ups of everyone else crossing the line. Brendan Gay took out Div 10 in a solid 59:35, while Peter Harris pulled over with cramps and was passed by most of Div 11, crossing the line in 7th and still with a smile. The 10,000m sprint, aka Div 9, has so far been LCRK-free, but Graham Jeffries decided to give it a go (apparently there was some advice from Don J involved) and finished in a credible 10th.
Lachie Wrenford was the sole LCRKer in a small Div 12, taking two minutes of his 10km PB to finish in 4th, while John Greathead finished 4th in Div 13, apparently feeling his shoulder more than the heat. Jeff Tonazzi and Tim McNamara both lined up for the increasingly-popular Div 9, earning 9th and 11th respectively in the 15km event.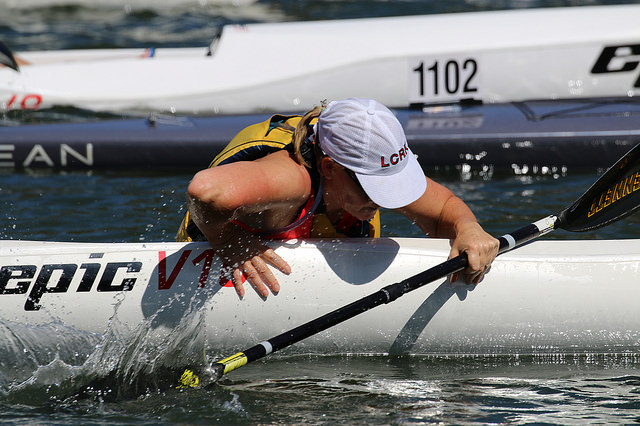 Above: Allison demonstrates her cooling off technique!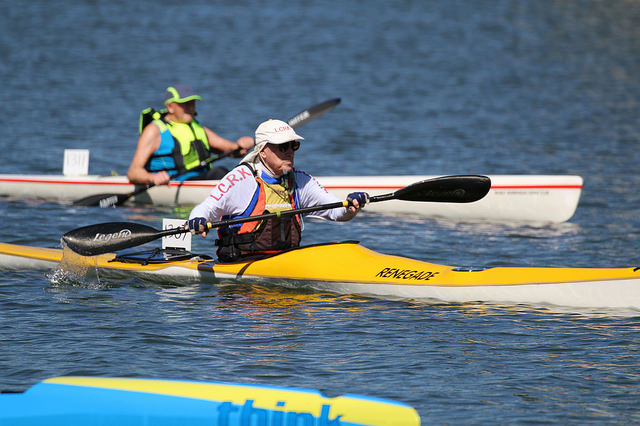 Above: John Greathead in Div 13
With the top divisions rather sparse at Wagga, it was great to see them so full of LCRKers at Woronora. Div 2 welcomed Tim Binns to the ranks, with the trio of Tim, Ian Hofstetter and Justin Ryan taking out places 4 to 6 respectively. And while Brett Greenwood took out Div 1 for Manly, there were a record five boats in the mix paddling for Lane Cove. Dave Coward finished in 1:33:34 (yes, definitely 20kms) to clinch 3rd, while Andrew Love and Stewart O'Regan claimed 5th and 6th. Suzie Rhydderch teamed up with Mitch Coffrey for a Div 1 debut and 12th place, while Div 1 regulars Tony Hystek/Alanna Ewin paddled their first race of the season to finish 14th. Another doubles show-down in store as the year progresses perhaps?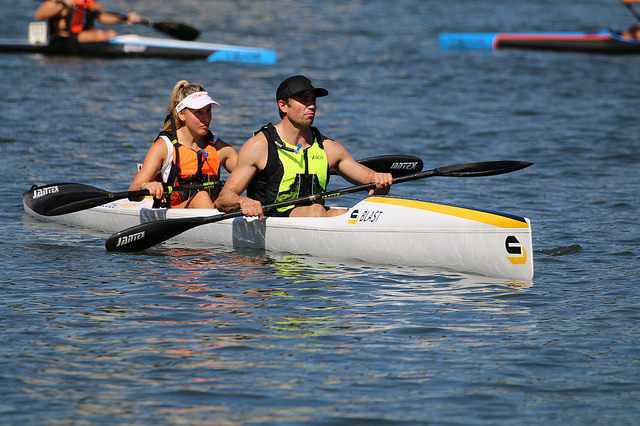 Above: New pairing of Suzie and Mitch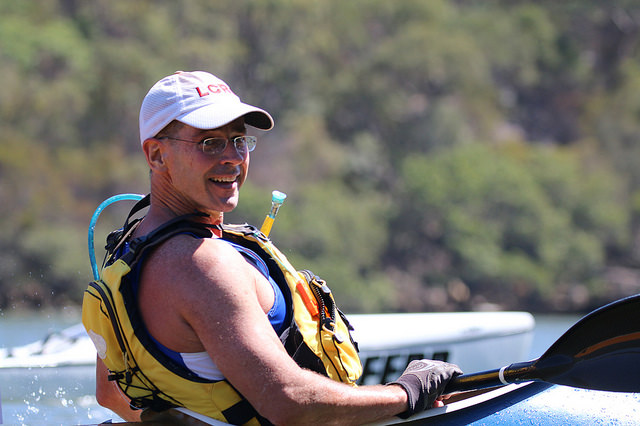 Above: John D flashes a smile at the finish
Despite the draining heat, it was a stunning day of racing, with the Woronora River providing a beautiful panorama and Sutherland Shire Canoe Club making everything run smoothly. The boat washing station was particularly welcome, with several LCRKers taking the opportunity to have a quick cool off as well! Thanks also to Lesley Manley for her superb photos.
On April 8th, we take a short run up the Pacific Highway to Wyong for the fourth race of the season, and with Lane Cove edging ever closer to the top spot in terms of club points it would be great to see another strong turn-out. Oh, and has the committee mentioned the Lane Cove doubles round on April 22nd?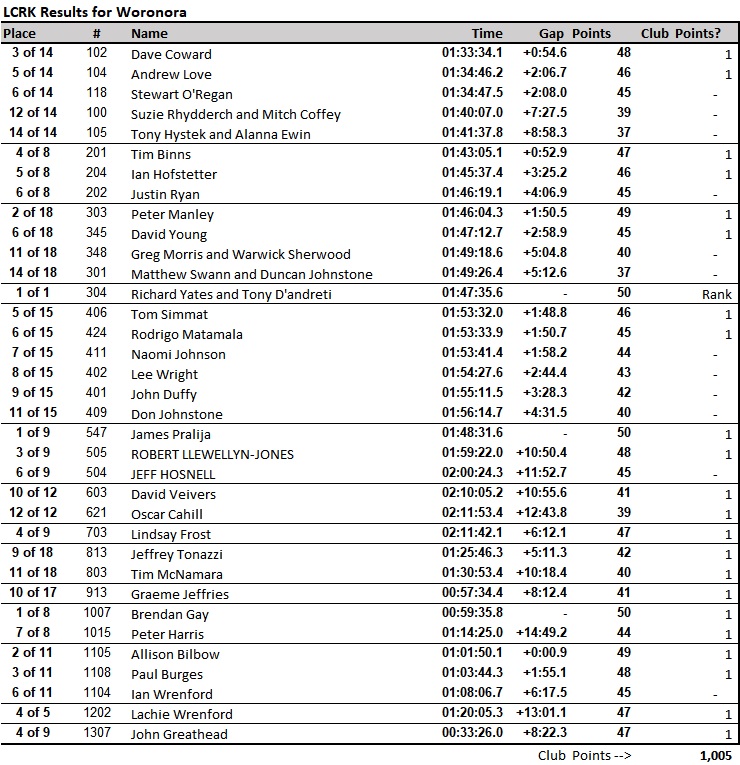 Round 2, Wagga Wagga - Sat 24 Feb
Race Report by Naomi Johnson

For the second regular race of the 2018 marathon series, a small but dedicated team of Lane Covers trekked down to Wagga Wagga. A gloriously sweltering day awaited, the sort of day where you'd much rather be submerged in the waters of the Murrumbidgee than sitting on it. The river was as challenging as ever, with a few wet paddlers and plenty of fun to be had through the race.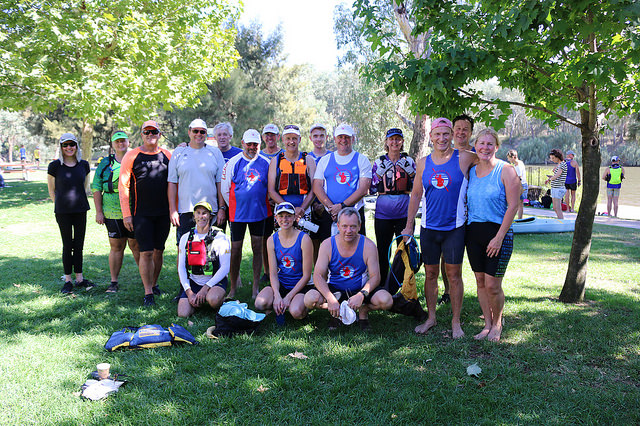 Above: A small but speedy Lane Cove team set to do battle with the Murrumbidgee
On Ian Wrenford's 2017 Christmas Party calculations of distance-to-paddle, Wagga Wagga is quite the commitment. While some snuck days off or half days on the Friday to arrive before the light faded, others packed in the full 9 to 5 before the drive, rolling into the ever-popular Wagga Beach Caravan Park around midnight. Saturday dawned bright and clear, with the temperature already feeling high before the briefing. A major change to the course this year was that paddlers weren't required to cross the river up near the top turn, instead making a clockwise turn around the island. Pre-whinging about right hand turns aside, it was a welcome alteration, with the current less likely to catch paddlers and sweep them round without warning.
With a smaller-than-average LCRK team (everyone paddling the Bridge-to-Beach?), Div 1 and 2 were left to other clubs to battle out. But we made up for it elsewhere. In Div 3, Tim Binns' goal of promotion seems to have been realised, with a stellar performance to win the division by almost two minutes despite complaints of an upset stomach while paddling. David Young reverted to the ski to secure himself second place, and Warwick Sherwood/Greg Morris finished in 8th. Rumour is that Warwick is so dedicated to paddling that he interrupted a holiday in Noosa to fly down to Sydney, road trip down to Wagga with Greg, paddle and then head back to the holiday!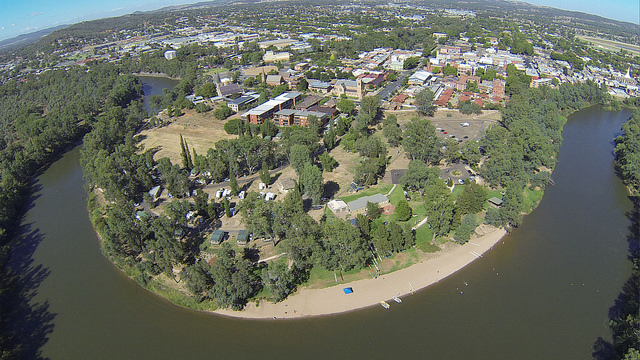 Above: Wagga Beach from above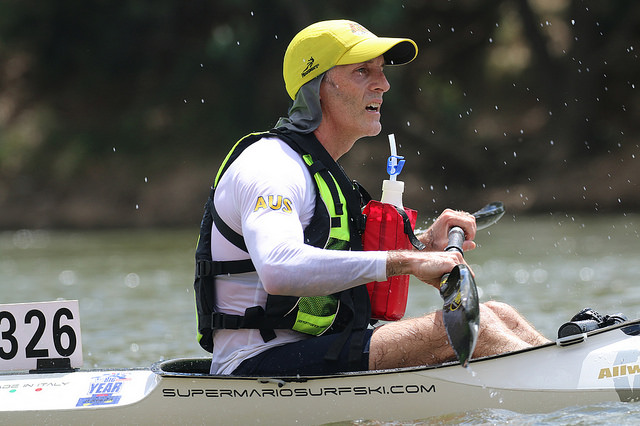 Above: Tim takes out Div 3
Div 4 was a much smaller than in Canberra, with Naomi Johnson taking full advantage of a gentle start to stick with the front pack and eventually take out both the division and the prize for fastest woman on the day. Tom Simmat and Wade Rowston both opted for more stable boats than in Canberra, finishing in 6th and 7th respectively.
Quite possibly a record, Div 5 posted only three entries for the day, with two of them from Lane Cove. Rob Manning finished 2rd and Duncan Johnstone 3rd. Div 6 saw Ruby Ardren (MWCK) take second place, Linden and Richard Barnes (SydU) 6th, and Lindsay Frost 9th. Rae Duffy was a welcome addition to the Lane Cove team, paddling to 3rd in Div 7, while Anjie Lees (6th) reported an early swim.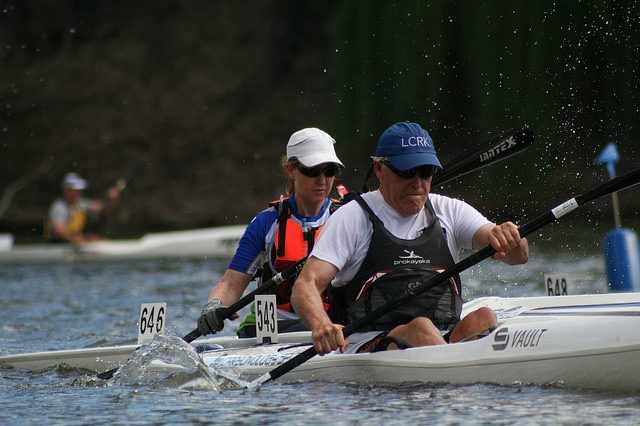 Above: Duncan in Div 5, with Shannon Duffy behind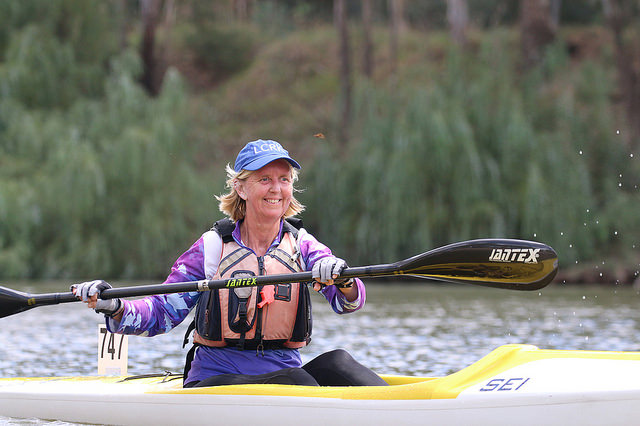 Above: Great to have Rae Duffy along for the race
A favourite part of the Murrumbidgee River course is the point at which a strong cross-current joins the main river, conveniently also the spot where paddlers need to cross the river and join the left-hand bank in order to pick their way upstream for the next 2 kms or so. Some were dreading it, while others (aka Tom) saw it as a tactical advantage to gain a few metres on the competition. It caught more than a few paddlers unawares, including Allison Biblow who used her warm-up lap to confirm that it wasn't a good idea to paddle straight into the large green marker bouy in the middle of the current!
Lane Cove numbers were a little down in the shorter distances – perhaps the lure of the Bridge-to-Beach on Sunday? Or indeed the thought of a ten hour round trip for only an hour in the boat? Lachie Wrenford was 2nd in Div 12, while Div 11 saw Lane Covers take out three of the top places. Despite a swim during the race itself, Allison finished in 2nd, followed by Ian Wrenford (3rd) and Paul Burges (4th). Jeff Tonazzi was the sole LCRKer in Div 8, paddling to second in a group that this time started just after Div 4 – good to keep them on their toes!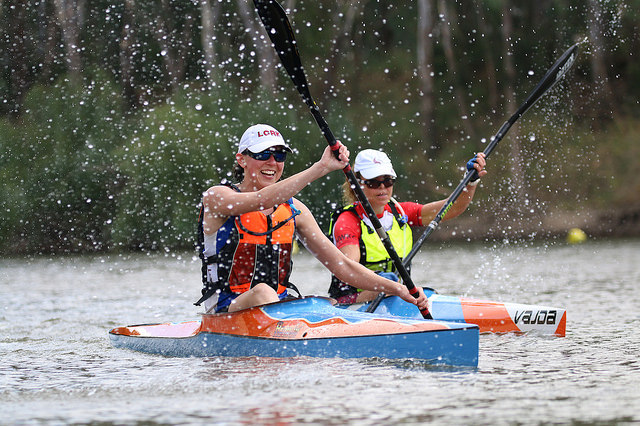 Above: Naomi enjoying a cool shower (thanks Allison!)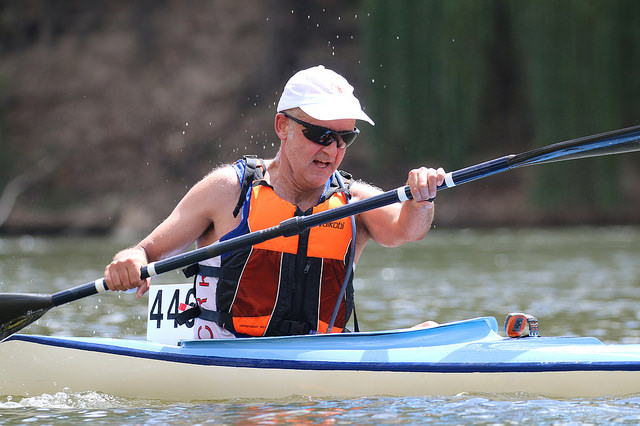 Above: Wade in Div 4
Thank you as always to Ian for masterminding and taking such lovely photos, along with those who gave lifts and boat lifts down to the race. And special mention goes to Tom and anybody else who packed themselves up after the race and departed for Sydney in time for the Bridge-to-Beach on Sunday morning! The third race of the season is in Woronora on Saturday 17th March, and it would be great to see a Lane Cover or several in every division!
Round 1, Canberra (BGCC) - Sat 3 Feb
Race report by Naomi Johnson

With the start of February comes the start of the 2018 Marathon Series. The first race of the season saw a strong Lane Cove team trek down to Canberra for a day of sunshine, showers and a test (or perhaps reassessment) of holiday paddling endeavours.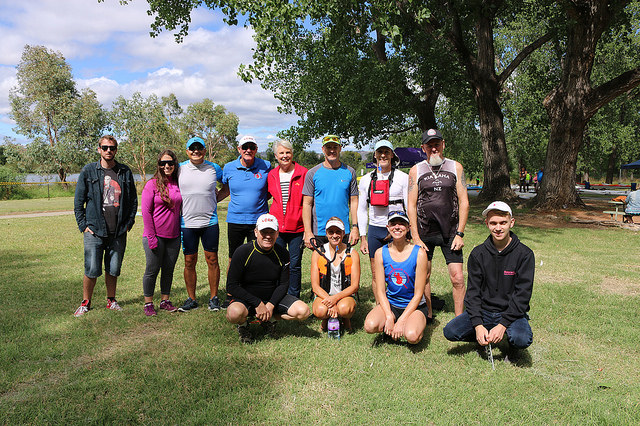 Above: Some of the Lane Cove team and landcrew
Apparently it was tipping it down with rain in Sydney at about 5am on Saturday morning – a cool and drizzly start to a day which turned out almost idyllic racing conditions. Most set off early in the morning to head for Canberra, and anyone watching the Hume from sunrise would've been distinctly surprised at the number of kayak-carrying cars dashing south. By the time we arrived in Canberra the ground was dry (had it ever been wet down there?) and the sun was shining on an almost calm Molonglo River.
Lane Cove fielded a strong team of 25 boats, with particularly solid numbers in divisions 4 and 5. While some were raring to go with their 2018 paddle goals, others were, shall we say, still getting back into shape for the year. Div 5 saw impressive performances from Lee Wright and John Duffy in 2nd and 3rd, with Lee taking out a ski and John sticking right behind him for most of the race. Tim Hookins (5th), Jeff Hosnell (7th) in his new Bettong K1, Suzie Rhydderch (8th), Rob Manning (9th), Duncan Johnstone (12th) and Ruby Ardren (13th, MWCK) rounded out the competitive paddlers, with Lane Cove making up almost half the division. James Pralija completed his ranking race in a time that would've seen him in the thick of the field.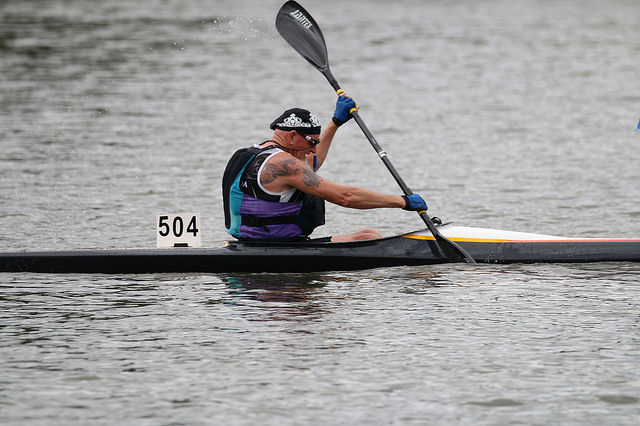 Above: Jeff H in his new Bettong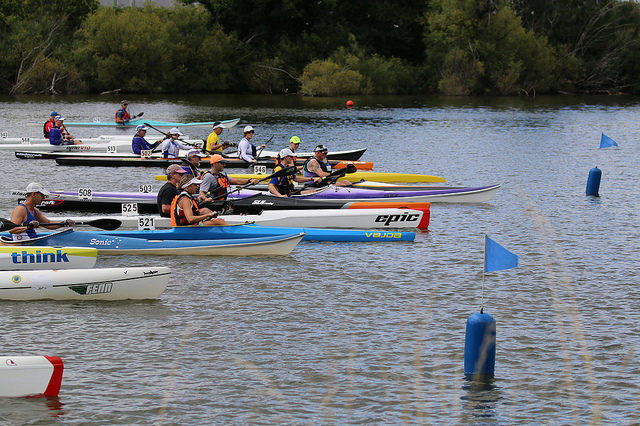 Above: Div 5 ready to head off


Another four Lane Cove paddlers, along with Richard Barnes in the Syd Uni colours, lined up for the Div 4 start. For those just moved up from Div 5, it was a bit of a shock to the system, with a fast and ferocious start and an initial lap that left many panting for air. It was a division of new(ish) boats, with Rodrigo Matamala (7th) and Naomi Johnson (9th) in brightly-coloured Romans, Wade Rowston (13th) in his new light-blue Bettong, and Tom Simmat (14th) in a boat that is either new or he hasn't paddled since Naomi started writing the race reports! Richard was the dark horse of the division, starting at the back of the pack to spend two laps 'catching up with old friends' before rocketing past nine or so boats in the final 8kms to finish 4th!
Div 3 saw familiar faces of Tim Binns (an impressive 3rd) and Peter Manley (5th), along with David Young stepping down a division following his Christmas wrist surgery. Both Lane Cove paddlers in Div 2 were ranking, with Cameron Cox pulling off a particularly impressive time of 1:37:33 – surely that'll mean Div 1 next time! With 2017 regular K2 of Tony Hystek/Alanna Ewin absent, the sole Lane Cove paddler in Div 1 was Stewart O'Regan. Several thrilling portages later (check out the photos) he finished 3rd in a heated sprint for the line. 2018 sees a big change in the way that club points are allocated across all the divisions and races. This year, the top two boats in each division for each club earn club points, no matter where they finish. Bigger clubs still have an advantage, but it does mean that they can't monopolise divisions in quite the same way by knocking other clubs out of the points entirely. To maximise Lane Cove points, then, we need to have at least two boats per division, a great goal for the season!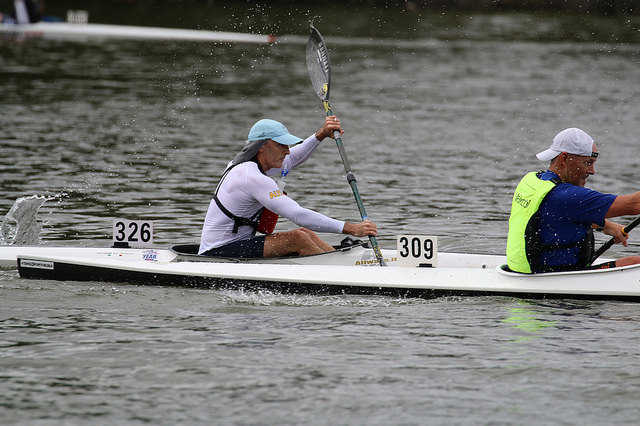 Above: Tim racing to 3rd in Div 3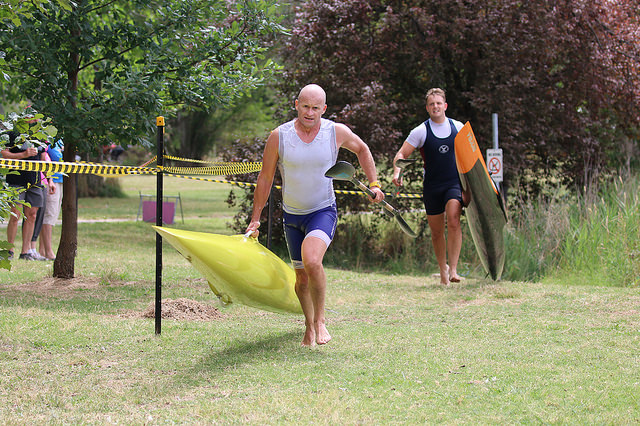 Above: Stewart on the portage run
On that note...in the slightly more laid-back 20km divisions LCRK faces were a little scarcer. Div 6 saw David Hammond paddle to a solid 10th in what he has declared will be a 'very small' 2018, and Lindsay Frost finished 12th. Anjie Lees (8th) and Gaye Foster (5th, MWKC) paddled in Div 7.
The other big shake-up of the 2018 season is that there are now four different 10km divisions, with Paddle NSW acknowledging that some might want to race the shorter distance at speed without being promoted to 20kms. Time-based divisions 9 to 12 allow paddlers to be competitive no matter what their speed or distance goals. Though there were several familiar LCRK faces in amongst the action in these groups, we could certainly do with a few more racers to maximise on club points!
Peter Harris and Allison Bilbow jumped back into Div 10, with Peter finishing in 9th and Allison declaring she was 'just happy to finish' in 12th. In Div 11, Brendan Gay showed some early season form finishing in 2nd with a time that will probably see him in Div 10 next round, and Ian Wrenford finished in 5th. Lachie Wrenford steps up to 10kms this season, posting a 1:22:22 for his first crack at the distance.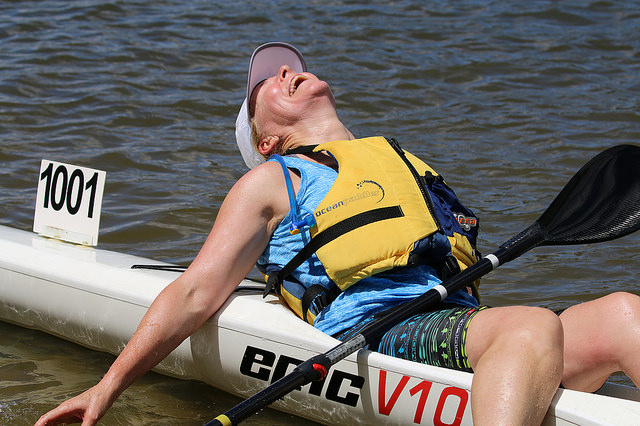 Above: Allison, happy to have finished or exhaused?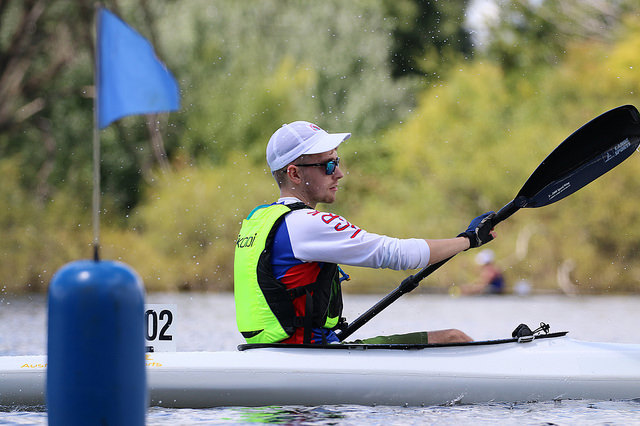 Above: Lachie finishing off his first 10kms
The 5km and 15km distances certainly haven't been forgotten in the 2018 system, with Div 13 proving particularly popular. Of the 17 boats who lined up on the start line it was really pleasing to see six juniors having a go at the sport. Meg Thornton went for something a bit different in the maiden race of the year, paddling a SUP round in a time of 1:01:16 for what we're guessing is the single-bladed race of her Very Big Year? Finally, Div 8 took on a bit of a twist this round, with officials deciding to start the group ahead of Div 4 rather than in their usual spot behind Div 6. There was certainly confusion for some on the start line (the lesson: always stay for the whole briefing), but the goal of denying Div 5 and 6 paddlers a potential washride was certainly achieved. Jeff Tonazzi, the sole LCRK paddler, finished in 3rd, and took full advantage of the new start position to get in some washrides of his own!
On Sunday, the annual Burley Bash attracted a small but dedicated crowd of paddlers, and with sun glinting on a glassy Lake Burley Griffin it looked like a great day of racing. There were four distances of 30kms, 16kms, 5kms and 3kms, with the Splash Bash and Dash Bash new additions to this year's race. Over 30kms, Richard Barnes finished in 2:43:45, with new guest boat in the Lane Cove time trials Gareth Stokes and Peter Faherty clocking the fastest time of 2:23:04. Keen to get in a few more kms at the start of her Very Big Year, Ruby Ardren paddled the 15km course in 1:18:06.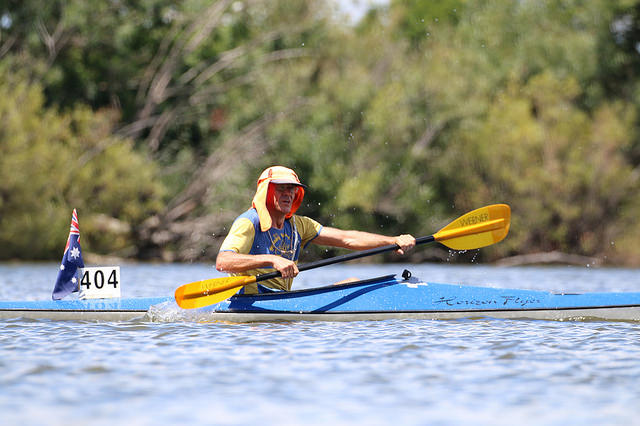 Above: Richard Barnes cranking up that pace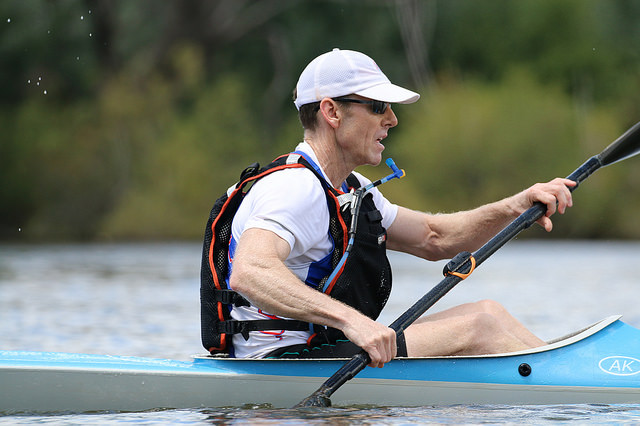 Above: Ian Hofstetter completing his ranking race
Driving down to Canberra, be it for the day or the weekend, is a big commitment, and it was great to see such a strong LCRK turn-out. Thank you in particular to those who provided lifts for both people and boats, to president Phil Geddes for his very detailed advice on lifejackets and hot weather paddling, and to Leslie Manley and Ian for their brilliant camera-work. February continues to present races for the steely travellers, with an optional round in Albury on Sat 10th and then Wagga Wagga on Sat 24th. Then again, just think about how many early points you could get in the bag!


Round x (optional), Albury (Mitta Mitta) - Sat 10-Sun 11 Feb
PNSW Facebook (at 25 Jan) says "This is an optional race...earn points towards your series and race against mates from Victoria. Frank Harrison Memorial. Singles race on Sat and Doubles race on Sun. More details to come"
The Mitta Mitta website advises the race is in "Albury, NSW, starting at either the Weir Wall (26 km) or Waterworks (16km). No Portage' - the Frank Harrison Memorial course - ie 16km or 26km downstream.