Page Navigation:http://lcrk.org.au/pmwiki/pmwiki.php?n=Main.2018MarathonSeries#ROUND11
Lane Cove River Kayakers are building a team (40+ boats) to tackle the 2018 HCC
With a long history supporting the event and with LCRK holding a good number of the HCC race records, we are very keen to again put in a strong performance. If you are contemplating taking on the event, then think about joining the Lane Cove River Kayakers team.
Our weekly 6:30pm time trials (6/9/12km) give you invaluable night time paddling experience,
Members have access to (free) organised HCC training paddles covering the HCC course and other courses.
Members include experienced HCC, marathon and ultramarathon paddlers - willing to share, advise and motivate. A series of HCC Workshops are provided after some of our Wed night Time Trials.
LCRK has a wealth of HCC information/tips/and resources built over many many years.
LCRK will be providing support crew and Club camaraderie at the various scheduled stops of the HCC.
The Hawkesbury Canoe Classic primarily supports the Arrow Bone Marrow Transplant Foundation, and every LCRK entry and the associated fundraising activity helps this great cause.
HCC Dates: Saturday 27 and Sunday 28 October 2018
'The Classic' was Started by NSW Outward Bound Ex Students Association in 1977. It now always runs overnight at the end of October (to fit with school terms) starting at Windsor and finishes at Mooney Mooney. In 1977 the race had 250 paddlers and raised $8,500 for the Arrow Foundation. In 2016 the 40th anniversary of the race, some 500 paddlers took part with fundraising approaching $200,000. Those paddlers just wanting to have a fun and social evening can enter the Brooklyn or Bust or Dash classes whilst the more competitive paddlers challenge themselves to beat previous records or their own PB's.
 


Above: LCRKers Paddlers and Support Crew at the 2017 HCC 



HCC 2018 Tides and Weather and Moon
The conditions for 2018 (at least from a moonlight and tide perspective) are likely to see a high tide at Windsor at ~16:00 on Sat 27 Oct, a low tide at Wisemans Ferry at 19:30 in the evening noting the current change will have a bit of a lag [please check this for yourself!]. There'll be a big moon rising (~10pm on Saturday) and the tides will be correspondingly high.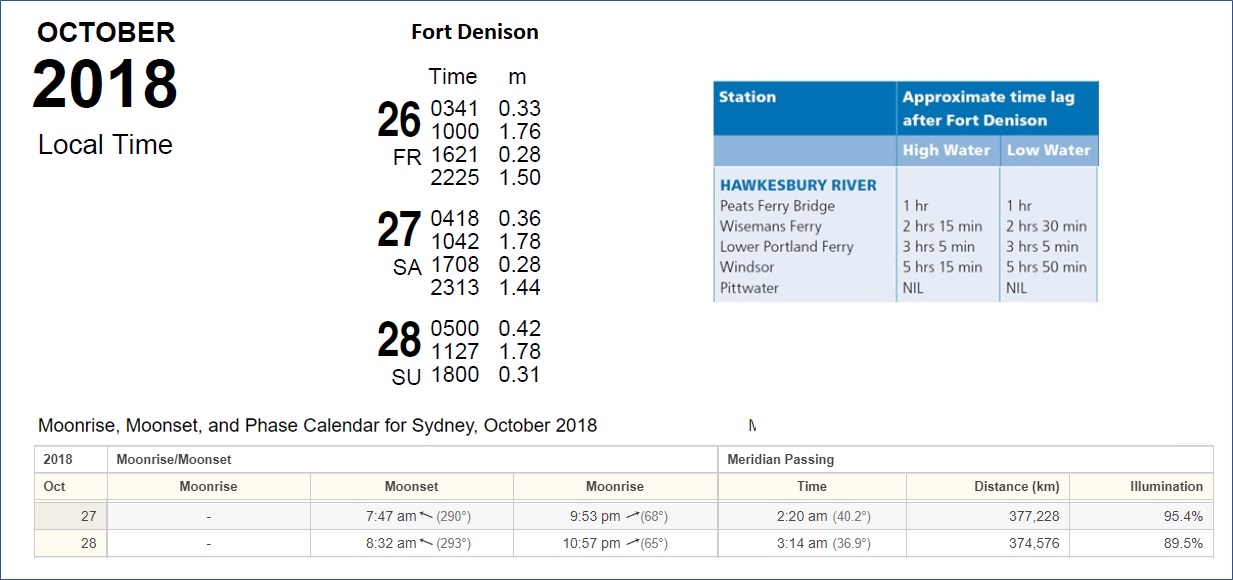 Above: 2018 tides and moon (weather tba)
LCRKers at the 2018 HCC - Definites and Probables in random order
LCRK Paddler
HCC/Dash?
Class
Age Div
Boat
Start p.m.
Record
1
Richard Barnes
2
Wendy, Jana, Kerrie & Angie
3
Matt Swann
4
John Duffy
5
Suzie Rhydderch & Mitch Coffey
6
Peter Fitzgerald
7
Mark Hempel and Caroline Marchner
8
Brendan Trewartha
9
Tony Hystek??
10
Jeremy Spear??
11
Ruby Ardren
12
Kenji Ogawa & ??
13
Trevor Nichols
14
Darren Williams
15
Craig Salkeld
16
Tom Simmat
17
Naomi Johnson, Sophie Johnson
18
Robert Llewellyn-Jones
19
Rich Yates
20
David Young
21
|Peter Manley
22
Rodrigo Matamala
23
Greg Morris & Warwick Sherwood
24
Chris Johnson
25
Seth Berrange
POSSIBLES
Chris Thompson
ROOM
FOR
MORE
Club Support
2018 HCC 'Calculator'
LCRK is please to provide this Microsoft Excel based 'calculator' which is preloaded with HCC 2018 Tides all the way up to Windsor and incorporating associated tidal and riverine flows (all other things being equal which they never are!!). To use, download the tool, open up Excel, adjust ONLY the yellow shaded cells ie:-
Update your Windsor start time
Update your expected base speed (either constant for whole 100km, or you can slow yourself down as your energy flags)
Adjust your expected stop time (eg if it's 1/2hr then enter as =0.5/24 to keep excel happy!)
The calculator will then derive your ETA at respective checkpoints, including adjustments for current.
The course map (separate worksheet) will be automatically updated and can be printed out on a single A4 page for you &/or your landcrew.
Print out different versions eg at 9km/h, 10km/h, 11km/h base speed - you'll know by your first stop which one you should be using!
How do you work out your base speed? See Tom Holloway's excellent article for more detail but he recommends assuming you paddle at 90% of your time trial speed. Stops are additional as are delays waiting for one or more car ferries. Your average speed overall will probably be around 85% of your time trial speed, all else being equal. See: http://www.lcrk.org.au/pmwiki/uploads/Main/HowFast_HCC.pdf
Note that whilst there's a bit of science behind this tool - there are many other important variables in play including wind, river knowledge, washriding etc - which can make the tool a bit of sideshow. Use the tool in conjunction with ALL your planning.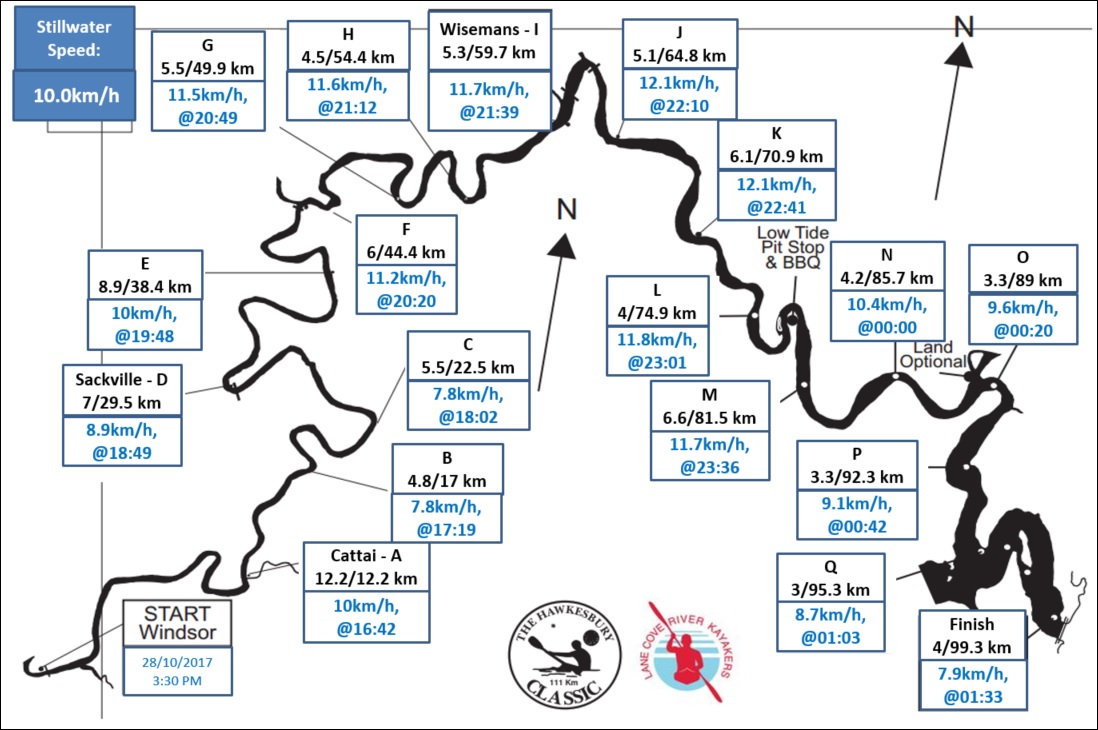 Above: Calculator produces prepopulated map showing ETA's
For those wanting more detail. The new calculator identifies tides at Fort Denison (HH, LL, H, L), then adjusts that tide all the way up to Windsor some 5-7 hours later. Current patterns have been modelled for 4 sections of the river (between stops) using data from MHL, DPW etc. Your ETA at a particular checkpoint is adjusted based on your base paddle speed and the anticipated current at the time you are travelling. Short or long stops will affect the tide you catch (or are caught by). Further fine tuning CAN be done - but no point over-engineering it, you might be affected by winds, unplanned swims etc. Good luck!
LCRK Training Paddles
LCRK always provides a series of training paddles to prepare for the HCC. The set below are ALL on sections of the Hawkesbury River. The early starts are aimed to pretty much match the tidal conditions you will experience on the Hawkesbury - and get a head start avoiding too much river traffic (ie powerboats etc).
Sunday 29th July - Sackville to Wiseman's. Briefing: 7:30am First Start: 7:45am.
TIDE Sackville 07:15am LOW
REPORT - 1st LCRK Training Paddle - Sackville to Wiseman's
A day full of foreboding turns out to be a perfect day to get to grips with the "Big W"
A promise of 5 degrees, a strong incoming tide and 30km/hr plus winds had everyone more than a little unsettled on Saturday night. Duncan's warnings and precautions to be taken just raised anxiety further.
The dawning of a new day after a spectacular eclipse, and what a perfect way to introduce our prospective Women's K4 crew and committed members to the most challenging part of the Hawkesbury Classic - 14 degrees and windless.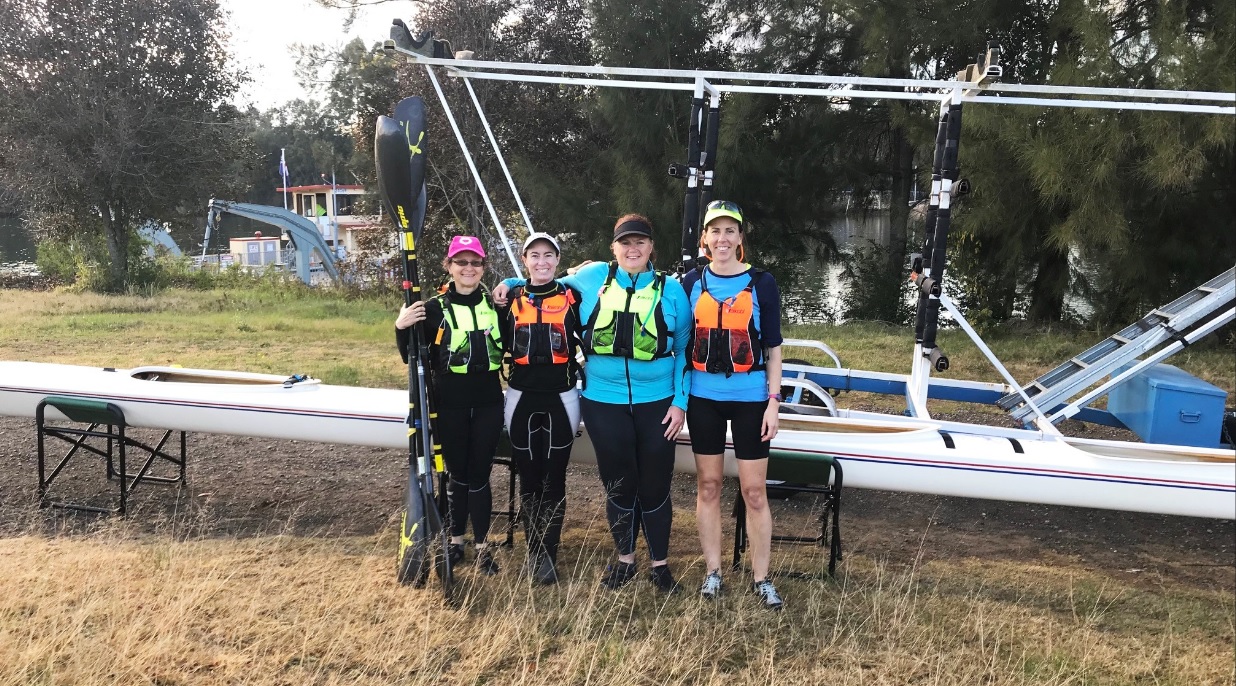 Above: The K4 crew - Jana, Wendy, Anjie, Kerrie
14 paddlers arrived at "Naughty Wiseman's" to load their boats onto our club trailer for transport upriver to the start at Sackville. With the K4 coming on board it was decided to use the trailer to see if we could reduce the time spent shuttling equipment and paddlers back and forth. Apologies to Pete who, keen as ever, ended up on his own at Sackville very early in the morning! It worked a treat with our K4 team able to get the support they needed in manouvering the K4 off the top of the trailer.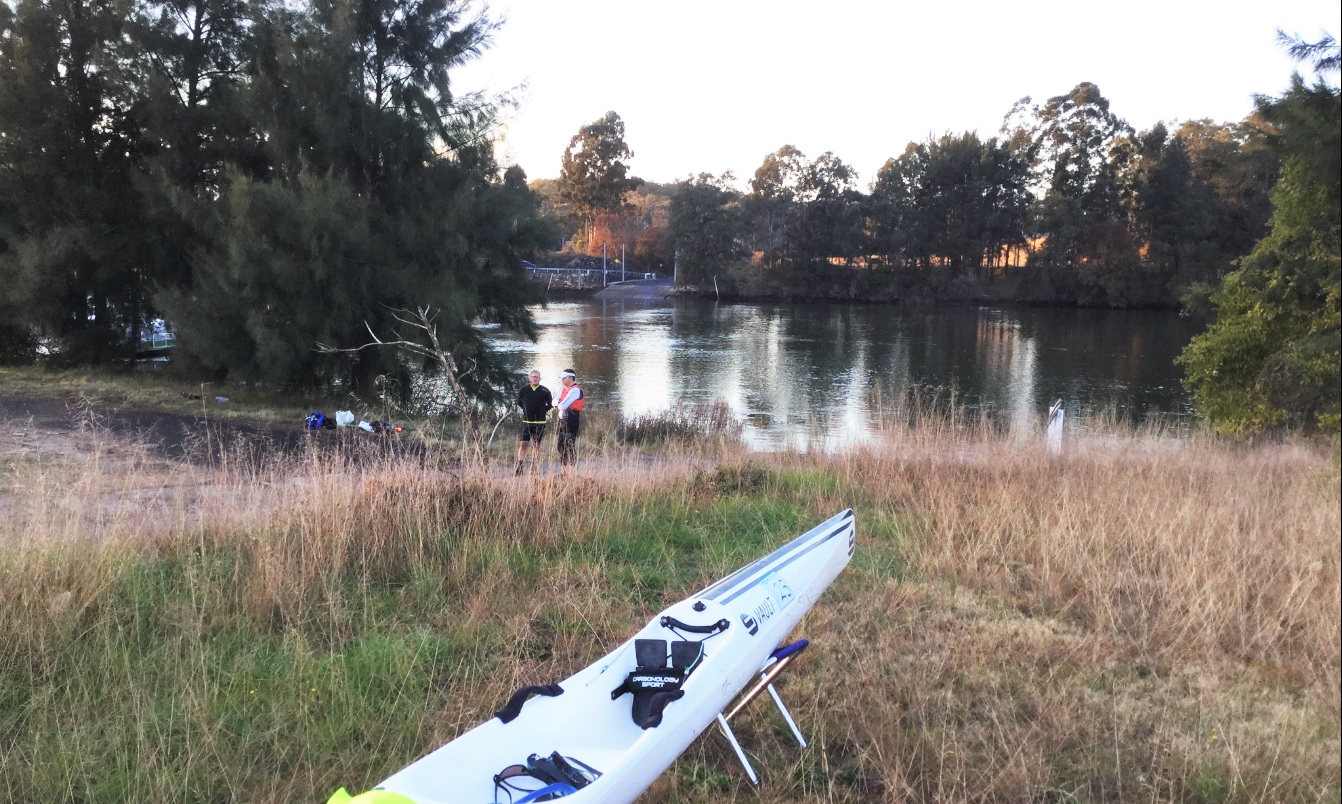 Above: early morning at Sackville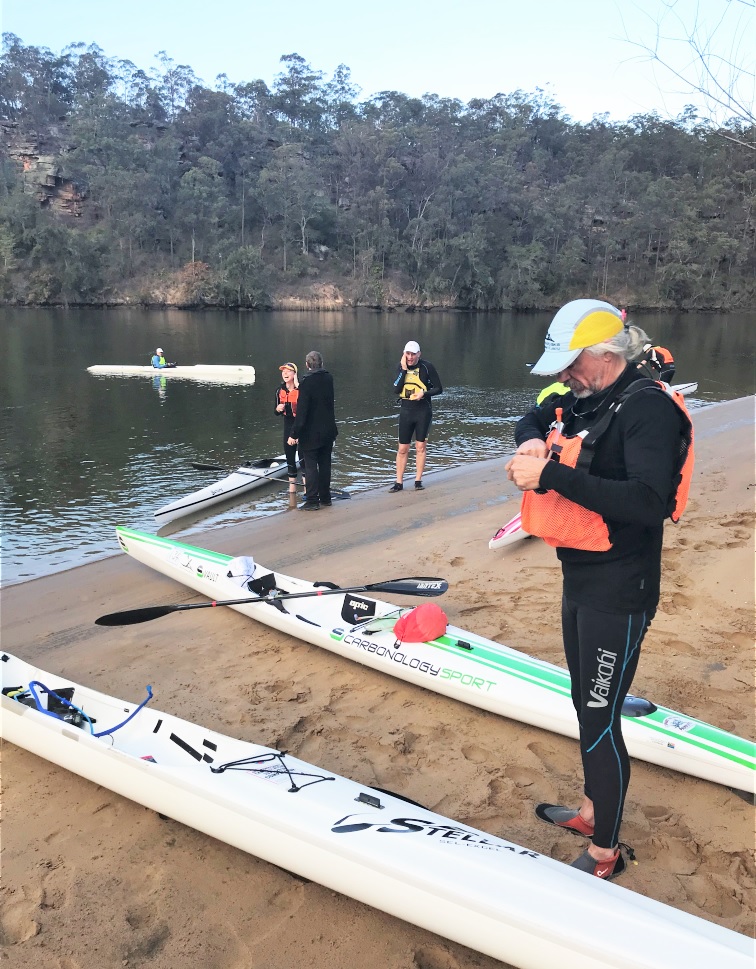 Above: and we're off
After an excellent briefing from Tom Simmat on how to tackle the Sackville to Wiseman's leg against the tide, including a detailed map, and more wise words from our wizards, Jezza and Dave Young, it was onto the water with the tide turning to challenge us.
Chris Johnson, looking to take part in his first Classic, was sent off 15 minutes early and showed he's well placed to do a good time on the night. "Hot shots" Pete Manley and Dave Young decided to paddle off upstream while the rest headed off to Wiseman's and of course were later to prove their worth. Jezza, Don Johnstone, Naomi Johnson quickly set the pace upfront. At Dargle they appeared to lose their way in broad daylight keeping to the right on the river around the sharp left hand bend. Maybe they were just testing the waters?
Coming from behind, the K4 caught the back markers just before Lower Portland with plenty of "working out who was suppose to be doing what" going on. It is clear though with good style and rhythm there is the making of a good crew for the Classic. Good on you Wendy, Kerrie, Jana and Anjie!
Tom Simmat, with Rob Llewellyn-Jones and Duncan Johnstone were taking Tom's advice to heart and really testing speeds over the shallows, finding the eddies and cutting the corners to get in behind the strong incoming tide.
The low water afforded some crews picnic-like opportunities en route to Wiseman's. Greg Morris and Warwick Sherwood were on occasion seen to be taking a break, facing the wrong way up river. Perhaps a last minute decision to duck into an attractive looking beach to stretch the legs or was it a weed freeing exercise? You need a retractable rudder, guys!
Expectations were high that we were going to be accompanied by Mitch and Suzie in their Boost. Either we were too slow, or they decided tidal issues were going to make it a hard day on the water. They started from " Naughty Wiseman's and turned 20kms up river from Wiseman's to top the distance covered (40kms) for the day.
So everyone, you only experienced my dire warnings with a km to go. I think an excellent way to lock in the route to take in October. Good paddling until then. Look out for details of the next LCRK HCC Training Paddle.
Sunday 19th August - Windsor to Sackville. Start:
TIDES: Windsor HIGH at 07:33am (1.21m) LOW at Sackville at 12:13pm (.6m)

REPORT - 2nd LCRK Training Paddle -Windsor to Sackville
Who said you can't fly on the Windsor to Sackville Leg of the Hawkesbury Classic?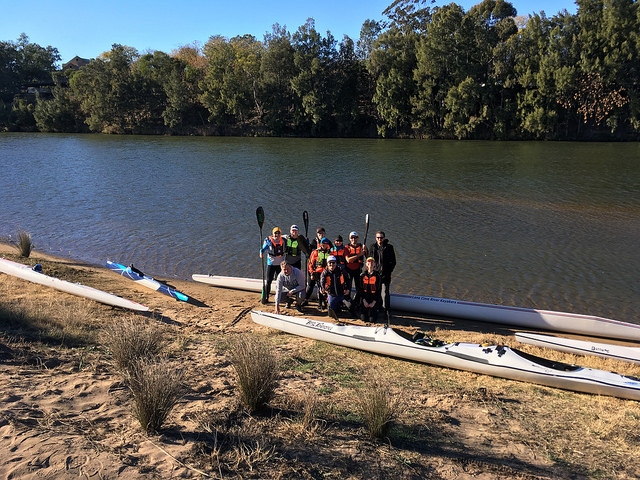 Above: Windy you say?


The back bone of this year's LCRK Hawkesbury Representatives braved the coldest day in a month on a clear winter's morning to take part in the Club's second Hawkesbury Training Paddle. The rest must have been put off by the prospect of strong and gusty winds forecast by the weather bureau for past week. Anjie, Jana, Wendy and Richard, standing in for Kerry, showed ominous form blasting down the course in quick time with Rodrigo, in his new Infusion K1, in hot pursuit for all but the last 4kms. Naomi, in the Club's Bettong K1 struck a lone figure behind them. Duncan and Matt, in their Elliott Zero Tolerance stood by Rob in his Vault as he tested out his ideas on seat cushions for the Classic.

Our young journalist on the spot filed the following commentary from exhilarated paddlers. From onboard the K4 - Richard commented "I'm having a great time. Lots of fun in these trying conditions. The River is angry this morning but Anjie is a cool Captain and Wendy and Jana are soaking up the conditions (literally) and asking for more".

At the finish, "Anjie, care to comment on your experience today?" "It was a great run for us. I have to tell you, Richard is the King of Eye Spy with something starting with R. It took us several kilometers to work out reflection. Rodrigo wash rode us all the way until the final turn down to Sackville and then took off into the rolling white capped waters making it look easy".

"and Jana and Wendy you women okay? Jana: "Yes, we had a great time. I think we are starting to work really well as a team". "and Wendy?" "Hi, OMG. I'm still pinching myself I'm still alive and not at the bottom of the Hawkesbury. There were times I thought we were in the ocean such were the tailwinds and times when I thought we were going down like the Titanic, but I feel tougher and stronger but slightly more apprehensive as to what Anjie has signed us up to". Jana: "Yes, the gale force winds at the end were very challenging. Good training though, but I hope it's not going to be like this on the day.

Naomi, glad to finish? "I had a lovely paddle, though on my own for the whole 30kms! It was a good chance to test the tide, corners and my mental staying power. I had some fun with the Bettong in the waves on the final approach to Sackville".

"Rodrigo, care to comment on your performance today beating everyone home?" "Huh! I wasn't sure if we were training for the Classic or the Avon Descent. At times felt like a downwinder in a K1. Everyone managed the conditions really well just hope we are not facing near gale force winds and white caps in the Classic. Never seen the Hawkesbury River so angry". "Rodrigo, I believe you have a new nickname?" Wendy: "Yes! The 'Chris Froome' of paddling! He stuck with us all day, and then left us for dead in the home stretch". Shipping was few and far between on the river this morning with the exception of some skiers. Richard thought the air force had come to town as some ski race competitors ramped up their practice for the "Hawkesbury 120". Made us all feel rather pedestrian.

However the real culprit of the day was the wind. With a forecast for strong winds for coastal waters and up to 30km/h on the Hawkesbury for Sunday, nobody expected what was thrown at us in the closing stages of the Windsor to Sackville paddle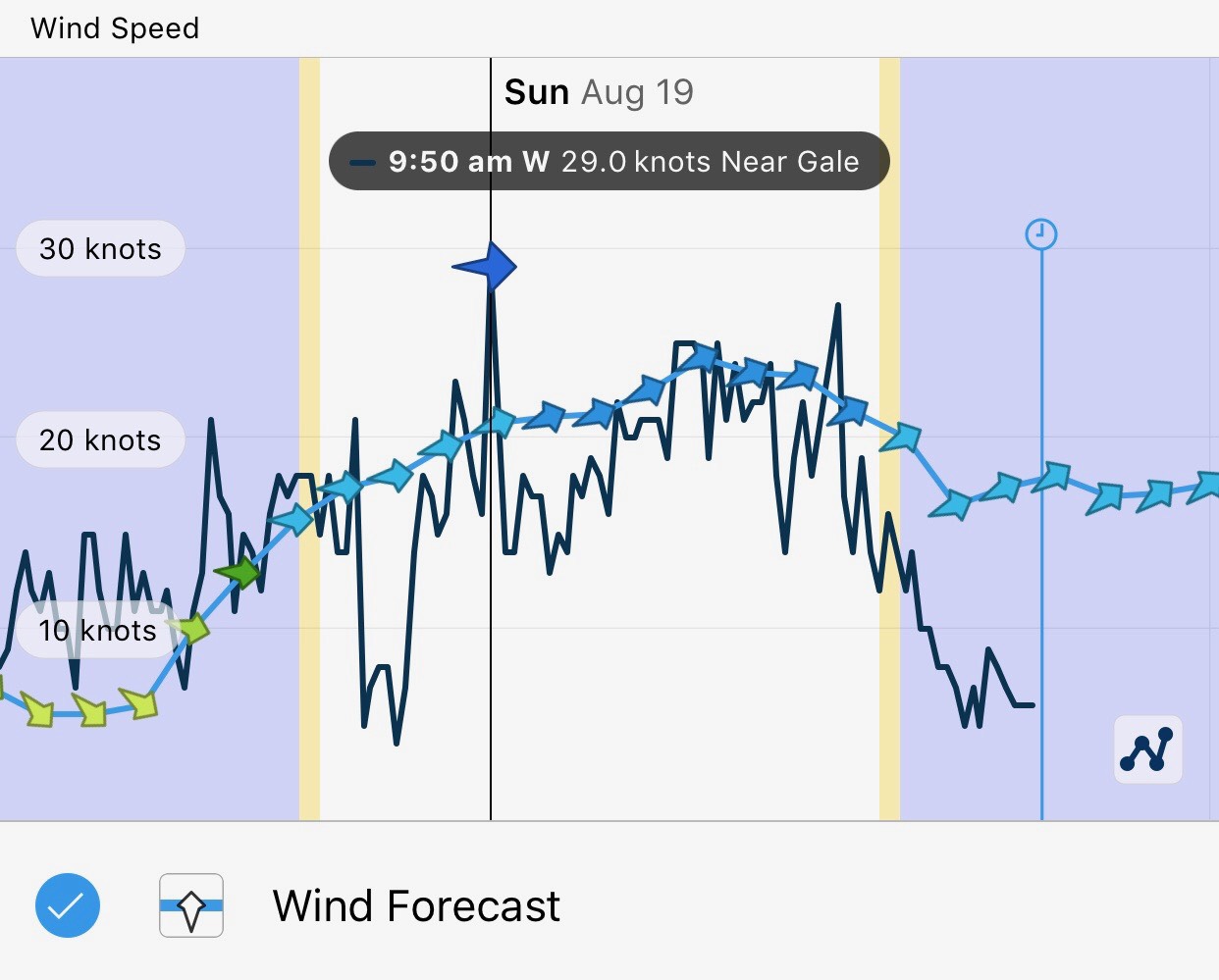 Above: Windy apparently?

When Rob and Matt were asked for a comment there was simply silence and perhaps that is where we should leave it. But for a shout out to Clay and Frazer for your support and providing the essential transport. Many thanks, guys.

Sunday 7th October Wiseman's to FINISH (final details to be confirmed). Briefing: tba am

To register interest for these - see Duncan Johnstone or Rich Yates at the Shed - and/or keep an eye out for specific comms.
At Windsor - From 10am to 5pm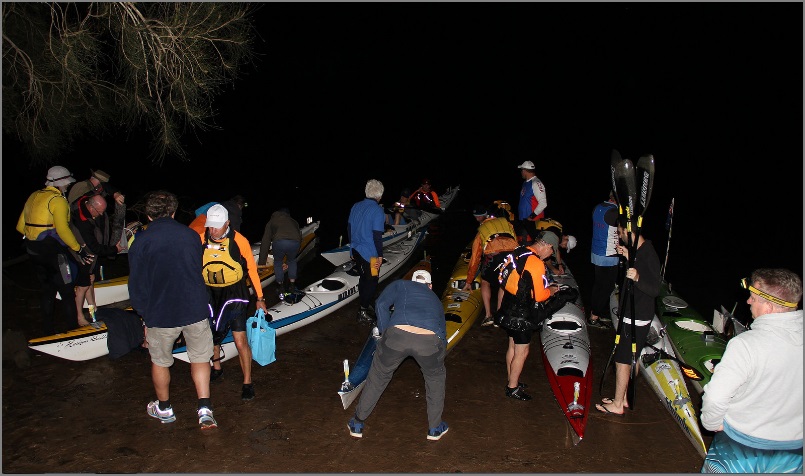 Above: Wisemans Ferry Support. Photo Jana Osvald 2015
LCRK Marquee for shade and meeting point
Club shirts and caps for sale
Issue of LCRK tokens for ID at Wisemans BBQ
Issue paddler, start list and contact list
Experts to offer advice, smiles and positive vibes
Group photo 2:15PM (Be at the LCRK marquee at 2:10pm)
Mandatory race briefing is at 2:45pm
Marquee will be moved to Wisemans at 5pm
At Sackville - from 6:30pm until last LCRK paddler through
Radio warning to your land crew of your approach
Illuminated LCRK sign to identify our shared meeting point
Shared land crew support in landing and re-launching each paddler
Informal tracking of LCRK craft passing through\\Reminder to paddlers to check out at 2nd Sackville checkpoint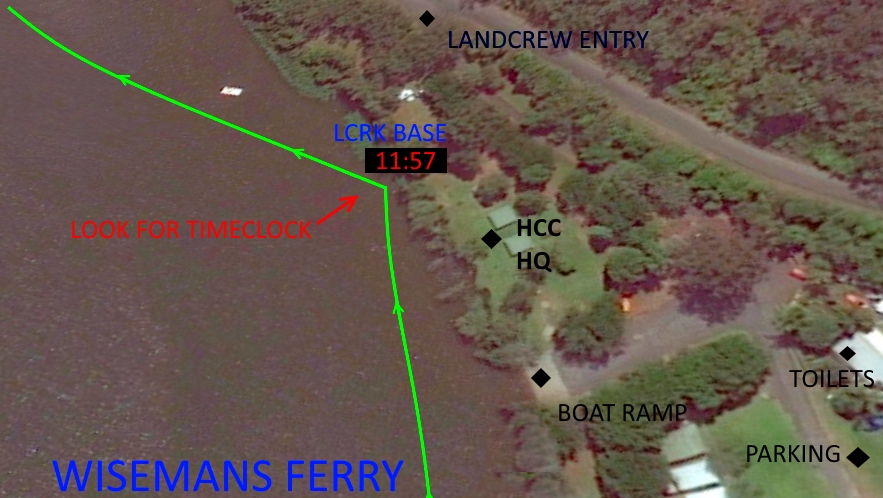 At Wisemans - from 8:30pm until last paddler through
LCRK meeting point 40 metres downriver from main launching ramp (see photos below - look for the red electronic timing board used for our Time Trials)
LCRK marquee
Free catering for LCRK land crew and social HCC paddlers (thanks Andrew MacKay and Joanne!)
Informal tracking of LCRK craft passing through
Club support for land crews in landing and re-launching their paddlers
Reminder to paddlers to check out at 2nd Wiseman's checkpoint.
Low Tide Pit-Stop
If you need a last stop on your down-river run and succumb to the "sirens", you will, as usual, be offered smiles, "mud angel" landing and re-launching services, sometimes "paddle through" service; fire for warmth; smiles; hot food and drink; and more smiles - this is not a club facility but a wonderful service volunteered annually to all participants. Remember the location this year is about half a kilometre upstream from its former spot shown on the maps –it is at a boat ramp (= less mud!)
Preparation Reading
General Advice
Nutrition
Clothing
Stretching/Injury Prevention
Landcrew Advice
Maps & Planning
Garmin GPX Track
HCC.zip Unzip, copy into your Garmin, and set to visible using garmin menu.
For planning and safety purposes please note: The HCC is not 111km, it is actually 100km. Also, it does not finish at Brooklyn, it finishes at Mooney Mooney (Deerubbin Reserve)
LCRK members past and present currently hold over 20 class records.
| Boat | Class | Name | Year | Time |
| --- | --- | --- | --- | --- |
| K1 | Vet60+ | Tom Simmat | 2009 | 11:09:12 |
| K1 | Ladies Vet60+ | Ann Lloyd Green | 2016 | 13:57:29 |
| K2 | Vet50+ | Bruce Goodall, Jeremy Spear | 2014 | 9:33:57 |
| K4 | Ladies | Margaret Cook, Merridy Huxley, Buzz Powell, Sandra Burwood | 2006 | 9:29:40 |
| K4 | Mixed Vet40+ | Margaret Cook, Merridy Huxley, Warren Huxley, Bernard Craggs | 2008 | 10:07:36 |
| K4 | Mixed Vet50+ | Margaret Cook, Merridy Huxley, Warren Huxley, Rob Cook | 2010 | 10:18:23 |
| K4 | Ladies Vet50+ | Our Rae Duffy with Merridy Huxley, Dee Ratliffe and Clare McArthur | 2013 | 10:53:59 |
| TK1 | Ladies | Margaret Cook | 1985 | 10:44:49 |
| TK2 | Ladies Vet40+ | Margaret Cook, Merridy Huxley | 2003 | 10:46:04 |
| Short Rec | Vet50+ | Tom Simmat | 2007 | 9:58:35 |
| Short Rec | Vet60+ | Tom Simmat | 2012 | 10:35:24 |
| Med Rec | Open | Toby Hogbin | 2010 | 9:18:22 |
| Med Rec | Ladies Vet50+ | Rae Duffy | 2012 | 10:55:09 |
| Med Rec | Vet60+ | Tom Simmat | 2010 | 9:54:05 |
| Long Rec | Open | Bruce Goodall | 2000 | 9:37:50 |
| Long Rec | Ladies Vet50+ | Liz Winn | 2008 | 10:59.33 |
| Long Rec | Ladies Vet60+ | Ann Lloyd-Green | 2013 | 14:02:57 |
| Long Rec | Vet50+ | Bob Turner | 2014 | 10:02:49 |
| Long Rec | Vet60+ | Tom Simmat | 2011 | 9:59:07 |
| Long Rec 2 | Mixed | Kristy Benjamin & Bob Turner | 2012 | 8:58:02 |
| Rec 2 | Vet40+ | Kenji Ogawa, Genkai So | 2000 | 10:36:34 |
| Long Rec 2 | Mixed Vet 50+ | Urs Mader, Arni Mader | 2007 | 10:06:20 |
| Ocean Racing Ski | Ladies Vet50+ | Roz Green | 2015 | 12:47:59 |
| Ocean Racing Ski | Ladies Vet40+ | Anjie Lees | 2014 | 11:08:12 |
| Ocean Racing Ski | Vet40+ | Brendan Trewartha | 2017 | 8:38:47 |
| Ocean Racing Ski | Vet60+ | Tony Hystek | 2016 | 9:06:32 |
| SSK2 | Mixed Vet40+ | Joy and Rich Robinson | 2015 | 9:28:31 |
| Unrestricted | Open | Toby Hogbin | 2012 | 8:18:19 |
| Unrestricted | Ladies | Julie Stanton | 2006 | 10:13:30 |
| Unrestricted | Ladies Vet40+ | Anjie Lees | 2015 | 11:41:14 |
| Unrestricted | Vet60+ | Tom Simmat | 2016 | 10:16:02 |
| Unrestricted | Vet70+ | Adrian Clayton | 2017 | 11:54:12 |
| Unrestricted 2 | Mixed Vet40+ | Bruce Goodall, Christine Lalor | 2007 | 8:57:57 |
| Unrestricted 2 | Mixed Vet50+ | Alanna Ewin, Tony Hystek | 2017 | 8:50:42 |
| Unrestricted 2 | Vet50+ | Tony Hystek, Timothy Hookins | 2007 | 8:57:00 |
| SSK2 | Mixed Vet40+ | Joy and Rich Robinson | 2016 | 9:05:38 |
HCC - The Whiddon Trophy (Fastest Time)
2009 Matt Blundell
2010 Matt Blundell
HCC - Participation (incl 2016)
| Completed | Name |
| --- | --- |
| 35 or more | Richard Barnes |
| 20 or more | Kenji Ogawa |
| 15 or more | Margaret Cook, Don Rowston, Merridy Huxley, Peter Fitzgerald, Tom Simmat, John Duffy |
| 10 or more | Martin Dearnley, Bruce Goodall, Rob Vallis, Warren Huxley, Urs Mader, Derek Simmonds |